Matterhorn Ultraks SkiAlp "3K" is for highly trained athletes. The course leads over 36 kilometers with effective 80 kilometers up to the Breithorn at 4164 meters. The 3K course is without a doubt the finest experience the Matterhorn Ultraks SkiAlp has to offer. Highlights of this demanding course is the Breithorn and the descent to the Schwarztor east of the summit which makes a fabulous reward for the very long ascent. The race starts at Schwarzsee and ends at Zermatt taking approximately 18 hours and 30 minutes going through 35.97 kilometers. The highest point is at 4134 meters with an ascent of 2621 meters and descent of 3571 meters. For spectators, the exciting section is by the Hornli lift and at Klein Matterhorn.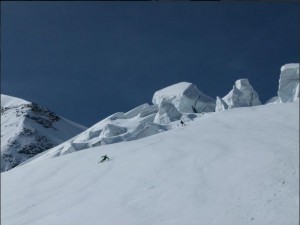 The Patrouille des Glaciers is one of the cult events in the ski mountaineering calendar. The course leads from Zermatt via Arolla to Verbier through the spectacular high altitude mountain regions of the Valais Alps, and represents a sporting tour de force for participating teams. The contest takes place every other year, in even numbered years. The start is worth seeing at least once in life. Days before the race, Zermatt teams with competitors training for the event, both men and women. The contest, organized every other year by the Swiss army, is regarded as the toughest of its kind in the world. Nevertheless, only a selection of teams that apply can take part as the number of places is limited.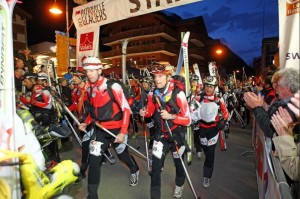 The race starts at the Bahnohfplatz in Zermatt in late evening or very early morning and ends at Verbier. The highest point is at 3634 meters taking approximately 5 hours and 52 minutes through 53.06 kilometers. The height of ascent is at 4276 meters and descent of 4341 meters. This race is one of the popular race in Zermatt. For spectators, there are entertainment activities and refreshments at Bahnhofplatz and Bahnhofstrasse. There are also information brochure available with starting times and details of entertainment that are available locally. Since there are many civilians and military patrols from all over the world entering the contest, you will have the chance to meet many new people wether you're taking part in the race or just there to watch and cheer the teams. Cheering supporters are a great boost for the contestants and an important element of the event so if you're there to watch, try to cheer a lot since the contestants really need the crowds support.