The Alphubel is one of the easier 4000 meter peaks to climb. It is one of the popular 38 four thousand meter peaks however it requires good levels of fitness and stamina. If you're into climbing for its beauty and the thrill, this is one of the stunning 4000 meter mountains you want to climb.
The origin of the name Alphubel is from the word Hubel from Alemannic meaning hill. The Alphubel at 4206 meters, is a mountain of the Swiss Pennine Alps, located between the valleys of Zermatt and Saas in the canton of Valais. It is part of the Mischabel range, which culminates at the Dom at 4545 meters. The summit of the Alphubel consists of a large ice-covered plateau, part of the Fee Glacier on its east side. The west side of the mountain is more rocky and much steeper. It overlooks the Weingartensee.
Seen from Zermatt, it looks like a flat hill lower than it really is. Viewed from its eastern side, from Saas Fee, it stretches out as a huge, glaciated hump with an extended summit plateau, and has the shape of a trapezium. It is easy to climb from this side, even on skis in the spring. Seen from the west, it presents itself as a rock wall, with two significant ridges that reaches towards the summit plateau. The cliffs are up to 700 meter high, with ribs and ridges leading steeply to the summit and requiring excellent climbing skills.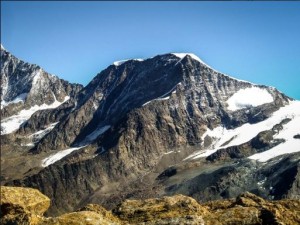 The first ascent of the mountain was by Leslie Stephen and T.W.Hinchliff with guides Melchior Anderegg and Peter Perren on August 9 1860, starting at Tasch and via the south-east ridge and the Alphubelijoch.
The routes to Alphubel can be taken from Rothorn, Gornergrat or Matterhorn glacier paradise. There are several routes that can be taken such as Taschalp to Tasch hut or Weingartensee, Taschalp to Pfulve to Fluhalp or Taschalp to Tufteren. Even though Alphubel is one of the easier 4000 meter peaks to climb, it is necessary to use a mountain guide since the weather up there rapidly changes making climbers difficult to ascent and descent in such weather conditions. You will also need proper gears to climb the mountain so it would be best to ask the mountain guides what you may need. But with all, it is an amazing hike will smaller crowds compared to Matterhorn, and an amazing view of the surrounding alpine mountains.