Tufteren with Gadini buildings is also an excellent photographic point. The hamlet of Tufteren at 2215 meters seems to belong to a long gone age, with its small wooden barns and stores called Gadini. For an authentic photo featuring old wooden houses, a flower filled meadow and the Matterhorn, this is the perfect spot. Wooden houses, perched on stilts and round flat stones and blackened by the sun, are among the most charming sights of the upper Valais. Not all such hamlets have survived. Tufteren, however, offers the perfect location for a picture that captures both the traditions and natural beauty of the mountains with wooden Valais houses and the Matterhorn. Depending on season, photographers can catch the rare alpine flower Edelweiss blooming nearby which makes the perfect photo subject. There are also beautiful Swiss stone pine trees nearby which adds a magnificent color to the picture.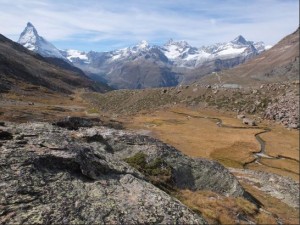 Hidden valley is what the locals in Zermatt call solitary valley, located where lush alpine vegetation gives way to the rocks, snow and ice on of the high Alps. The pristine natural landscape, with the small winding river is absolutely enchanting and a perfect spot for photograph. Only good map readers find the way to this small valley which is about 250 meters long, with no marked trails that lead here. The vale is concealed behind two lateral moraines of the Findel Glacier, which has retreated a long way. A mountain meadow with soft alpine grasses now covers the lower stretches. In the upper part of the valley, hemmed in by cliffs, wiry and thorny pioneer plants have taken hold. The perfect photo subject here is from the lateral moraine where the view into the lush valley and meandering river is available. Also another great photo subject is from the end of the valley where the Matterhorn can be viewed. Depending on season, visitors may be able to spot wildlife running around the lush mountain grass with rare plants on the lateral moraines.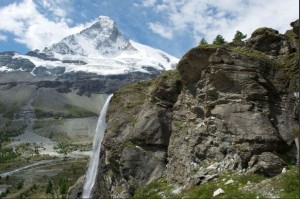 The Arben waterfall offers a dramatic sight with the Arbenbach river plunges to the depth from a rocky crag on the lateral moraine of the former Zmutt Glacier. From this place the unique north face of the Matterhorn can be seen with the Zmuttgrat ridge on the Matterhorn. The photo point here is the waterfall with the north face of the Matterhorn in the background. It is absolutely beautiful and the waterfall adds a mystic taste to the Matterhorn in the background.