Schonbiel hut offers the view of the north face of the Matterhorn and the Zmuttgrat ridge from an unusual angle which makes it the most special photograph opportunity. Here an unfamiliar but very attractive perspective for photos from Zermatt is available with the north face of the Matterhorn and the Zmuttgrat ridge as if at an eye level. From here visitors can view not only the Matterhorn but also Monte Rosa massif and the valley of the receded Zmutt Glacier. All which makes it a beautiful photograph. With the beautiful hut and the magnificent alpine mountains and the ridge, this place is one of the place where photographers can take a beautiful picture.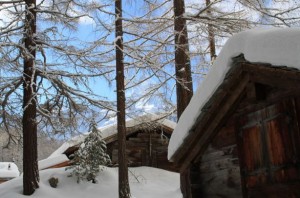 Winkelmatten Furi road is the road that offers beautiful lush of green forest, blue sky and the most famous mountain pinnacle in the world, the Matterhorn. The view of the Matterhorn is unique here without great drama, it is simply a rocky peak rising in front of a blue sky. Here photographers can take a beautiful picture of the Matterhorn rising behind the hilltops with relaxing forest atmosphere. The unique rocky peaks of the Matterhorn is something a photographer doesn't want to miss. And if lucky, you may be able to take a picture of roe deer passing through the beautiful green forests. In winter, the snow covered houses, roads and trees makes the environment look like a fairy tale making it even more a magnificent place to take picture while relaxing in the nature.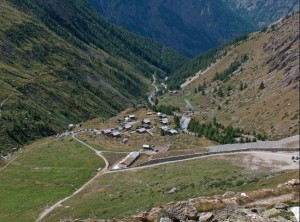 Taschalp lies in a hollow between the slopes of the Rothorn and the 4000 meter peaks of the Mischabel massif with lush of green valley, cows, farms and cheese dairy making it an authentic and photogenic area. The mountains all around rise so high that their summits are barely visible. Some visitors experience this tranquil spot as a mini mountain valley, others as a romantic sheltered hideaway with a pristine mountain landscape and pioneer vegetation. There are many areas around here that makes a great photograph. Photographers will have a wonderful time taking photos of alpine farm with cows, cheese dairy, wealth of alpine flora and crystal clear mountain stream the Mellichbach. Even though this area is in a hollow between slopes, it is absolutely a beautiful spot to take a memorable and amazing photograph. During summer, the blue sky and the green pastures adds a beautiful color to the picture and during winter, the snows cover the roofs of the houses and the snow covered trees and pastures makes a magnificent photograph.