The Forest Fun Park promises a thrilling adventure for the whole family. They have various circuits leading through the treetop, via bridges, ropes and zip wires. This place promises adventure and fun for visitors of all ages. With secured and safety cables, thrill seekers can walk, swing and climb from tree to tree. Zip wires, suspension footbridges and other challenges of various levels of difficulty guarantee a rush of adrenaline. These wonderful activity takes place in the treetops close to the valley station of Matterhorn glacier paradise with the magnificent views of the Matterhorn. Here, children will definitely have the time of their life. The circuits have different levels of difficulty so even parents can have an excellent time.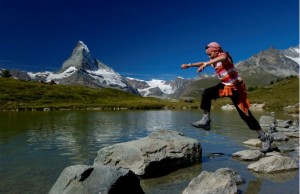 The lake of the Leisee at 2232 meter is Zermatt's beach and a popular outing for the whole family. With children's playground, barbecue areas, picnic spots and play raft, everyone can enjoy this place all with the glorious view of the Matterhorn. For children this is a magical place to swim and play. For parents, this is a wonderful spot to relax. The views of the Matterhorn is gorgeous, framed by a pristine alpine landscape. The lake is not deep and the water temperature is suitable for an excellent dip despite the altitude. The lakeshores are home to wealth of alpine flora and in July, there are tadpoles and small frogs. This magnificent lake has a little stream that flows into the lake which is absolutely perfect for children to play in. While children have a wonderful time in the stream or the lake, parents can relax on the lakeshore and have a romantic picnic or an amazing barbecue all with the view of the Matterhorn.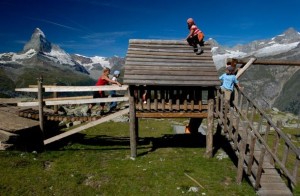 At Zermatt, there are many playgrounds for children to stop and play. From Blauherd playground at Wolli's adventure to Obere Matten playground which is located in the heart of the village of Zermatt, there are many playgrounds. Your children may get bored from walking around or tired of shopping (since children usually aren't that interested in shopping), you and your children can stop by at one of these playgrounds to let your children have some fun. Many playgrounds offer a nice shaded area for parents to sit and relax while keeping their eye on their children. The most wonderful part is, many of these playgrounds offer the magnificent views of the alpine mountains or very relaxing alpine forest.