Zermatt is famous for beautiful alpine nature and the magnificent alpine mountains. From hiking to skiing Zermatt really has it all. But that is not it. There are many outdoor activities you can enjoy at Zermatt with your children. Families and children look forward to many  different experiences in the mountain world in and around Zermatt. Exercise and fun are guaranteed here for both young and old. For those who love exercise, you can get what you want here.
Summer Skiing is one of the most popular outdoor activities in Zermatt at summer. With pure enjoyment of super class snow sports, you can ski high above Zermatt at up to 3883 meters. Skiers and snowboarders hit the pistes on the Theodul glacier with 21 kilometers of groomed slopes and in the Snowpark Zermatt for freestylers. And all of this with a view of the Matterhorn. One part of the area seems like a summer training camp for skiers. National ski teams from around the world optimize their skills in the speed disciplines. There are pistes for all levels so children can also have absolute fun.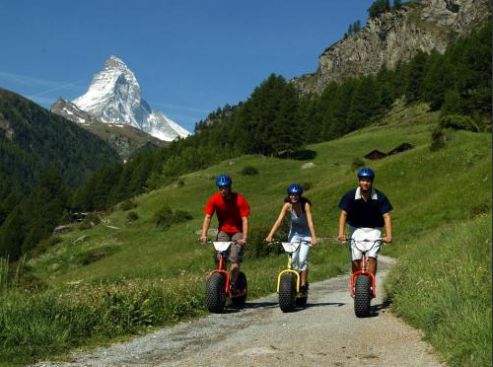 Dirtscooter on Schwarzsee is an amazing experience. Riding in Zermatt with high thrills at the foot of the north face of the Matterhorn is something you can't miss. These scooters with super-fat tires are perfect for riding the lanes leading through Zermatt's alpine pastures and this is a wonderful activity to do with all the family. Riders collect their downhill scooters from the Matterhorn glacier paradise valley station. Go ride in one of the Matterhorn Express gondolas, which leads up to Schwarzsee at 2583 meters, and get your helmets on. The trail leads past the waters of the idyllic Schwarzsee and down towards Stafelalp, which is a good spot for a first pit stop. The lanes are not completely smooth which adds an excellent spice to the adventure.
The Gorner gorge is a place of exceptional natural beauty. The wooden walkways leading between the towering cliffs provide a dramatic insight into the pure of nature. The Gorner gorge offers a thrilling adventure for the whole family. Since the last ice age, the waters of the Gornervispe have carved an ever deeper chasm. Access for tourists was created back in 1886 and 1887. The rock, greenish serpentinite, is about 220 million years old. This natural spectacle is only a 15 minute walk from the end of the village of Zermatt. In summer, the trip through the upper stretch of the gorge and trip through the gorge on foot is available. From mid-September between 3pm and 4pm, they have special lighting conditions which makes the water take on a brilliant turquoise color.