The cemetery in Zermatt is surprisingly a tourist attraction. It is quite an interesting place to stroll, read and learn the histories of cimbers who have lost their lives trying to conquer the mountains. If you are a mountaineer or thrill seeker you may want to steer clear of this one. But it is very educating to know and learn how people tried to conquer mountains such as Matterhorn.
Surrounded by 38 peaks that stretch up above 4000 meters, Zermatt has been visited by mountaineers from all around the world ever since the birth of Alpinism in the mid ninteenth century. The mountain that dominates the town, however, is the beautiful Matterhorn which is 4478 meters.
Nowadays more than 3000 alpinists climb the Matterhorn every year, several times more than all the other 37 summit combined. During the summer months as many as 150 climbers or more attempt to reach the summit every day. The majority of climbers abandon their endeavours for various reasons, and an annual average of 1200 need to be rescued. Around 15 climbers a year – over 500 in total – set out but do not return alive, mostly through falls on the decent. Some 10% of these tumble to their deaths on the glacier below the Matterhorn and their bodies are never recovered.
The mountain is not considered a particularly difficult climb. However it takes several hours to reach the summit and most climbers set out before dawn from the Hornli Hut or the Berghaus Matterhorn at 3260 meters to ensure they complete the climb before nightfall. During busy periods the dangers posed by congestion on narrow sections adds to the risks from rock falls, exhaustion and altitude sickness. The weather is also notoriously fickle around the Matterhorn, and visibility and overall conditions can change very quickly for the worse.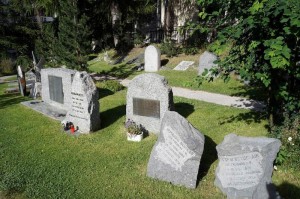 The cemetery is divided into two separate areas, one for the local people and the other (just behind the church) is reserved for climbers who have perished on the Matterhorn or on the nearby mountains. Some of the graves have impressive memorials, are beautifully maintained and some even have artifacts like climbing ropes and ice axes attached. Each headstones tell a story and you can feel their passion for climbing.
A visit to a cemetery is quite sobering experience and it is well worth a visit. There are quite many famous people who are buried there such as Swiss mountain guides Peter Taugwalder Senior and Junior who were members of the group of the first successful ascent of the Matterhorn.
The Zermatt Cemetery is situated just in between the western bank of the river Vispa and the St.Mauritius Church.