As you may already know, Zermatt is one of the best places to do winter sports. If you want to take a break from hiking or shopping or other things, winter sports is a great way to move your body! Here are some things you can do from skiing to skating!

Skiing/Snowboarding
Zermatt offers total of 313 kilometers of well groomed ski runs with slopes ranging from simplest to the most challenging. You can easily access to 57 mountain rides including high capicity cableways, mountain railways, chair lifts and ski lifts. There are several half-pipes and other infrastructure for snowboarders including the "Gravity Park" at the Furggsattel chair-lift which is located in Klein Matterhorn area, with jumps, slides, rails, kickers and pipes. For skiers and snowboarders it is paradise here in Zermatt.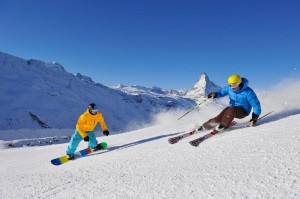 Heli-Skiing
It is one of the challenging, thrilling and adventurous way to ski off the pist of Zermatt. Of course you have to be well experienced to do this since you'll be skiing off the helicopter. But for those of you who are well experienced and love the thrill, Heli-Skiing is Zermatt's triple adventure. You can flight off and experience the mountains and have outstanding ski fun!
Cross-Country Skiing
Cross-Country skiing is also another popular sports other than just sliding down the beautiful mountains. It offers you to further down the valley between Taesch and Randa which is approximately 6 kilometers from Zermat and the cross-country slopes are 12 kilometers.
Toboganning
Toboganning or sled right can also be enjoyed in Zermatt. There's a popular toboggan run from Riffelberg to Rotenboden which takes apporximately 10 minutes. You can rent toboggans at the Rotenboden station. Also tobogganing is possible on 2 nights a week from Furi to Zermatt. So wizz your way down the beautiful powder snows for fun!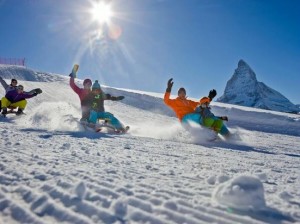 Ice Arena
You can ice skate and also play ice hockey on natural ice as well as artificial ice. If you're not into ice skating, you can try curling. Curling has a long tradition in Zermatt and there are 16 curling rinks as well as 2 ice-stock rinks. One of the major open-air curling tournaments in Europe called the "Horu Trophy" is played for in the third week of January with 64 teams from around the world to compete.
For other adventures for winter sports you can do hiking, ski-touring, snowshoe-trekking, ice climbing, snow-biking and even paragliding. Zermatt has so many fun things to do that you'll never get bored!