Zermatt is a tiny village in the Swiss Alps located just 10 kilometers from the Italian border (Cervinia). To prevent air pollution Zermatt is "auto-free" so you can't drive into the village. So here are some ways you can get to Zermatt.
If you're coming by plane, well Zermatt is only few hours from the international airports Zurich, Geneva, Basel and Milan and also has its own heliport which is operated by the Air Zermatt company.
by plane
Zermatt is only a few hours from the international airports Zurich, Geneva, Basel and Milan and also has its own heliport, which is operated by the Air Zermatt company. Depending on the airport, transportation time may vary but it is roughly about 3 to 4 hours car drive to Zermatt. The transportation time is about an hour by helicopter so if you're in a hurry to get to Zermatt you can fly there.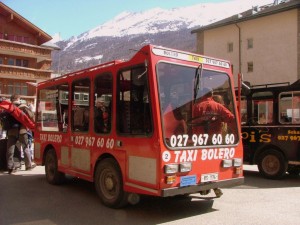 Like I said before Zermatt is car free so private traffic is only allowed up to Tasch which is about 5 kilometers before Zermatt. Also the road between Tasch and Zermatt is closed for private transportation. There are about 2900 car park spaces and 2100 of them arein Matterhorn Terminal Tasch. Also about 900 uncovered parking spaces are available in Tasch too. Some of the multi-storey car parks also have outside parking spaces and they offer taxi service to and from Zermatt.

From Tasch you can take the shuttle trains of the Matterhorn Gotthard Railway which runs between Tasch and Zermatt every 20 minutes. You can conveniently and directly transfer to the modern shuttle trains in the Matterhorn Terminal Tasch. The train journey ends 12 minutes later at the Bahnhofplatz in Zermatt which is at the heart of the Matterhorn village.

You may also go into Zermatt by train. The Swiss Rail network is world famous for its efficiency and is an extremely popular and convenient way to travel within Switzerland. Trains are clean, fast, reliable and frequent. The railway has direct connections in Brig and Visp to the modern narrow gauge railway of the Matterhorn Gotthard Railway. Which arrives in Zermatt after an hour and a half ride through the romantic Nicolaital valley.
The new Lotschberg base tunnel from Frutigen to Raron made the journey to Zermatt much quicker. From Zurich is now apporximately 3 hours, from Basel apporximately 3 hoursand from Bern it is approximately 2 hours travel time. Zermatt is also the beginning and or the end of the worlds famous Glacier Express.
For foreign travellers there are some convenient tickets such as Swiss Pass which is the All in One ticket for spontaneous people. It is limitless by rail, bus and ship through Switzerland so you can travel your way around with out buying a ticket each time. There is also a Transfer Ticket which is a ticket from the airport railway station directly to the destination and back again. This may come in handy when your hands are full with luggage or gears on your way in and out of Zermatt.
Once you're in the village you will find numerous taxis and buses which are all battery powered and will help you get you to your hotel or to the ski pistes.