Downhill Route which starts from Sunnegga high above Zermatt takes 15 minutes with adventure, fun and gravity. It is a thrilling descent for riders with good technical skills. It is hard to believe it can take just 15 minutes to descend more than 500 vertical meters. Riders eager to know their exact time can borrow stopwatch free of charge from the Sunnegga Rothorn valley station. Sensors buried along the course allow bikers to track their intermediate times as well. The Sunnegga funicular carries riders and their bikes in just a few minutes to the start of the freeride and downhill trails with plenty of challenges with passages, tight corners, steeps, drops, jumps, and roots. It is only for top class with 100% gravity oriented riders who love playing with weight and weightlessness. This trail is at Sunnegga and it is hard so you need to have very good technical skill. The distance is 3.12 kilometers taking only 15 minutes. The highest point is at 2280 meters with an ascent of 29 meters and descent of 576 meters. This trail has clear route markings and safety padding at difficult passages. It is absolutely thrilling and pumps your adrenaline.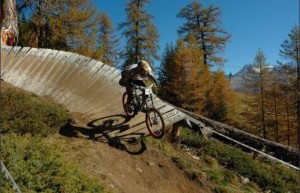 Downhill 4Cross Sunnegga is pure mountain bike fun in the mountains of Zermatt. It runs at Sunnegga and perfect for downhill enthusiasts wishing to practice and perfect tricks and jumps. Up at Sunnegga, mountain bikers enjoy an unrivalled combination of action and fun. The 4Cross run is full of variety, with jumps, banked corners and all kinds of obstacles providing a superb opportunity to perfect riding technique. The trail starts at Sunnegga and ends at Eisfluh with the distance of 0.45 kilometers and taking approximately 30 minutes. It is medium difficulty with the highest point of 2255 meters and an ascent of 4 meters and descent of 47 meters. This trail is ideal for children learning mountain biking and for those who wants to have fun jumping and doing tricks.
There are many more mountain bike trails around Zermatt and the best part is that you can take your bikes on the train! So you can take the train to certain places and just come back to Zermatt riding the bike. The views are absolutely breath taking with beautiful alpine air and nature surrounding you. This is one of the best way to experience the nature of Zermatt. Mountain bikes can be rented at many sport shops in Zermatt so you don't have to worry about taking your bike all the way to Zermatt.