Zermatt isn't all about snow sports and hiking. Surrounded by gorgeous alpine nature, Zermatt is also popular for mountain biking. Here are some popular mountain bike trails around Zermatt.
Gornergrat through Zermatt is the legendary downhill run from Gornergrat to Zermatt which offers everything that mountain bikers could wish for including fabulous views and trail full of variety. The trail is from Gornergrat and the route leads down via gravel paths and mountain lanes along single-track trails and field ways, past alpine pastures, hamlets and mountain lakes. Each sparking mountain pool has a character of its own. The starting point for this trail is from Gornergrat with medium difficulty ending at Zermatt. The trail is 19.71 kilometers in distance and takes approximately 3 hours. The highest point is 3080 meters with ascent of 531 meters and descent of 2002 meters.  This trail has breathtaking panoramic views and is home to a wealth of fauna and flora with Gornergrat observation platform, Grunsee lake which is good for refreshing swim and from Reid, you can view a completely new and magnificent view of the Matterhorn.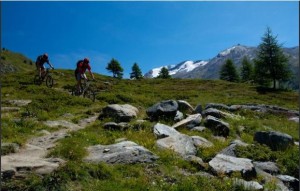 Zermatt to Riffelalp is a bike trail which reveals a beautiful and highly diverse mountain landscape around Zermatt. The route leads through forests, across alpine pastures and up to former glacial landscapes. This route is a must for anyone mountain biking in Zermatt for the first time. Fresh, healthy mountain air with fabulous view which includes the Matterhorn from the most beautiful angle. The trail leads through mountain forests and past alpine lakes with plenty of opportunities to relax on mountain restaurant terrace, two short and gentle descents and can return from Riffelalp on the Gornergrat Bahn cog railway. This trail is medium difficulty with the distance of 16.79 kilometers taking approximately 3 hours. The highest point is 2384 meters with ascent of 1267 meters and descent of 658 meters. The starting point is at Zermatt and ends at Riffelalp with fantastic geological and botanical highlights.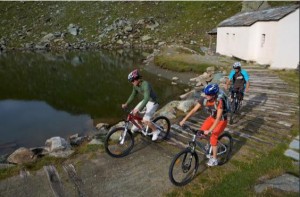 Zermatt to Schwarzsee is a ride that demands stamina in order to conquer climbs of 1423 vertical meters. The view of the legendary north face of the Matterhorn provides ample reward. The route initially leads along roads, climbing steadily first to Furi and then to the dam near Zmutt. Soon everything changes, the road turns into gravel track, and the technical challenges begin with very steep trails. You feel you're scaling the north face of the Matterhorn, which rises ahead of you, massive and black. In places you might even have to get off your bike for a while and push. However, the wonderful view from Schwarzsee at the top of the trail makes all the effort worthwhile. The trail begins at Zermatt and ends at Zermatt with the distance of 22.51 kilometers taking approximately 3 hours and the difficulty is hard. The highest point is 2579 meters with ascent of 1423 meters and descent of 1423 meters. The descent via Furgg is technically challenging and from Schwarzsee, you can view the Matter valley and to the Matterhorn with the Hornligrat ridge.