The Zermatt mountain guides are experienced, especially when it comes to assessing the abilities of their guests. Matterhorn candidates must be sure footed, absolutely unafraid of heights and demonstrate that they are in good condition. If this is not the case, a mountain guide advises them not to take the tour. Rarely have local mountain guides been involved in any of the accidents on the mountain in recent years.
The mountain world around Zermatt offers everything that makes a mountain lover's heart beat faster with 38 four thousand meter peaks. With ice, glaciers, snow, north walls and long or short climbs. Since the Zermatt mountain world is challenging and conditions can change from year to year because of climate change and among other things, it is recommended to always hire a mountain guide for tours. This is a worthwhile investment not only for safely reasons but also because of the experience. A mountain guide puts safety into play, which increases your level of enjoyment. They know their mountains inside out, they are very well experienced and they have much to tell.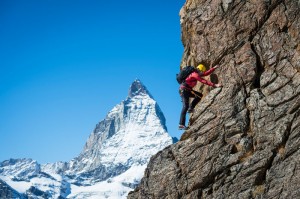 The Zermatt mountain guides are among the best in the world. Many of those who are currently guides are second, third or even fourth generation mountain guides. Their knowledge is the result of decades of collective experience that have been handed down over generations. Very few mountain destinations have such competence. The Zermatt mountain guides have left tracks around the world for generations. Many of them took part in first ascents. Around 20 of the Zermatt mountain guides live only by leading tours as mountain guides. They accompany numerous regular guests in the Himalayas, to Greenland, Alaska, South America or the Caucasus Mountains. The locals have been and are also leaders in mountain rescue and have freed people from difficult situations around the world with their pioneering methods. The development of long line rescue techniques for cliff faces was their work in collaboration with the helicopter pilots at Air Zermatt as was glacier crevasse rescue using tripods. The later makes it possible for rescuers to free victims from these cold prisons using cable winches.
With the generations of knowledge and their skills, Zermatt mountain guides are basically the professionals of mountains. Therefore if you're planning to climb a challenging mountain, they are the ones who you want to go with. With their excellent professional advices, it makes mountaineers possible to summit any of the 38 four thousand meter peaks. You can also get advices from them if you are not sure which skill you are on for climbing the mountain. They know their way around the mountains really well to help anyone who needs an assist with the mountains in Zermatt.