The Matterhorn is one of the most famous peaks in Switzerland and Alps. It has been famous and popular to climb but climbing the Matterhorn is not easy and must be taken very seriously. Even if you are a very experienced climber, you must hire a guide. Inexperienced climbers shouldn't attempt such a difficult mountain for their first climb. Matterhorn may look beautiful and because of the popularity it may seem very possible to climb for everybody but please note that it is not for everybody to climb.
In order to climb you first must be in top physical condition, must have some rock climbing experience and some experience with crampons. It would be best to keep fit throughout the year with weekly training. It is also necessary to spend at least one week to 10 days acclimatising and training in Zermatt area by hiking daily through 1000 meters to 1500 meters altitude difference, and getting your body used to the altitude difference of 400 meters an hour. The Mountain Guides Office of Zermatt recommends several other climbing tours before you start climbing the Matterhorn.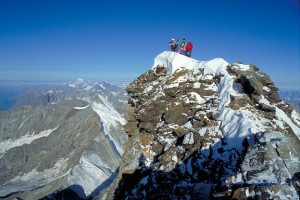 The usual climbing route is up the Hörnli Ridge on the northeast, which is the central ridge seen from Zermatt. The route, graded 5.4, involves 4,000 feet of climbing, mostly scrambling on rock (4th Class) but with some snow depending on conditions, and takes 10 hours round-trip. Some of the climbing is very exposed and climbers need to be skilled at climbing rock with crampons on their boots. The route, often guided, is difficult but not for adept alpinists. Fixed ropes are left on difficult sections. Route finding is tricky in places, especially on the lower section which is usually climbed in the dark. The descent, when most accidents occur, takes as long as the ascent. Most climbers begin their ascent by 3:30 in the morning to avoid summer thunderstorms and lightning.
The best time to attempt climbing the Matterhorn is mid-July to mid-September depending on the amount of snow on the mountain. It is best to avoid the high-season which is around August 1st to 15th. You will meet your guide the evening before the climb and for safety reasons the guide only takes one client for the climb.
In order to conquer Matterhorn you not only need best physical condition but also equipments. The equipment you need are, crampons, harness, a helmet, (all this technical equipment can be rented in a local sports shop), rucksack (30 liter), climbing boots with good rubber soles, warm mountain clothes, hat, gloves, sunglasses, sun cream, lip cream, headlamp, some energy-providing food for the climb, thermos flask or drinking bottle (tea can be obtained at the hut).
It is also neccessary to be insured for mountain accidents and possible rescue transportation. You can purchase rescue insurance from Air Zermatt and the form can be obtained from the Alpine Center.
After the successful climb of the Matterhorn the guide will give you a diploma in the hut.