Zermatt is famous for many wonderful wildlife and one of them is marmots. But what are marmots? Well marmots or alpine marmots are large squirrels that live in mountain areas. They have similar size of prairie dogs and hibernate through winter. They are highly social and use loud whistles to communicate with one another. They are quite an excellent diggers and are able to penetrate soils that even pickaxe have trouble digging. Sometimes you can see them sun bathing usually on a flat rock which is believed that they are cooling their body to deal with parasites. They usually come out in the morning and afternoon to feed but since they are very sensitive to heat, if it's a warm day, they might not come out to feed.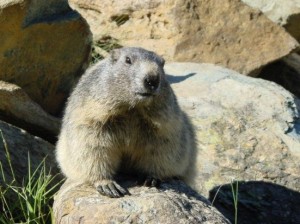 You can see these cute but big squirrels though out Zermatt. But if you want to get a closer look and learn more about them, go on the Marmot Trail. The trail starts from Blauherd to Stellisee to Sunnegga paradise. Just take the gondola up to Blauherd where you will quickly find the Marmot Trail. You will see the wooden sculptures and information (written in 6 languages) about the marmot's habits!
The walk is very enjoyable with family! The path progressively crosses burrows dug out by the marmots. Along the entire length of the trail, it is possible to observe families of marmots. They are quite used to humans and not at all timid. The walk will allow you to pass four information boards with observation points. The region around the Rothorn is a particularly good location for watching marmots! An observation post has been set up at Eisfluh below Sunnegga where you can see them eating grasses or maybe just relaxing in the sun.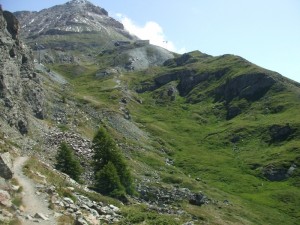 The distance of the walk is about 3.3 kilometers taking about 55 minutes. The elevation difference is approximately 319 meters and the walk itself isn't that hard so your chlidren can have fun walking this trail too. Since marmots hibernate during winter, it is best to go on this trail in June to September. The trail not only allows you to see these cute little critters but also from various points at Sunnegga Paradise, they have an open view of the gorgeous Matterhorn. So if you're lucky you might even be able to take a picture of marmot and the Matterhorn in the same frame! Just remember that they are wild animals so don't feed them even though it may be tempting.