There are many alpine wildlife in Zermatt and is one of Switzerland's biggest wilderness areas and home to many chamois.  Chamois is an animal that look like goats and are usually found at high elevations throughout the Alps. They are very agile climbers and if they sense a threat they can actually ascend up to 1000 meters in about 15 minutes. You can recognize chamois with their white facial markings and the brown stripe that runs along their backbone. They are well adapted to living in the steep and rocky terrain. A fully grown chamois reaches up to about 2 1/2 feet at the shoulders and weighs about 110 pounds. Both males and females have short horns which are slightly curled in the posterior direction.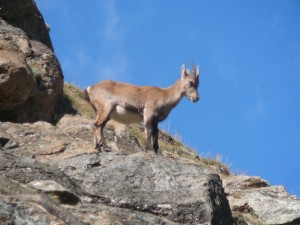 Like the previous Marmots Trail there is actually a trail for Chamois. Now that you know what chamois are, you can have a nice walk on the Gamsweg or Chamois Path in Zermatt. These walks gives you a good chance of spotting these beautiful animals! Depending on season, you might spot mother chamois with their kids, maybe a young male chamois or even a whole herd! It's worth allowing plenty of time to stop along the way and to observe them.
The hike is moderate walk and mostly downhill. The distance is approximately 5.7 kilometers, with an ascent of 60 meters and descent of 936 meters. The walk is about an hour and 40 minutes so it's not that long. The highest altitude you'll be is approximately 3089 meters. The walk begins at Rothorn taking you through beautiful scenery, peace and quiet. You will have plenty of opportunities to see the wildlife and the trail passes through the most varied mountain scenery in Zermatt!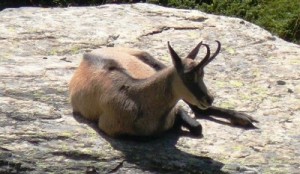 Just stay on the path to avoid disturbing the animals and you might see some of them resting on the ground. Which can be hard to spot to the untrained eye, but if you stop and scan the rocky outcrops and alpine pastures carefully you should be able to spot them! With the cute chamois, you will also have the mountain landscape around Zermatt. Allowing you to see 38 summits offering breathtaking panoramic views and beautiful alpine floras.
The Gamsweg or the Chamois Path is only open during July through October and during early summer, it might be closed due to snow so be sure to check if the trail is open.