Mark Twain Weg or Mark Twain Way is a trail named when Mark Twain had an expedition there in 1878. The trail is from his book "Climbing the Riffelberg" which is one of his finest story. The story taken from the travel report "A tramp abroad" from 1881, was written none other than Mark Twain who also wrote the classics "The Adventures of Tom Sawyer" and "The Adventures of Huckleberry Finn".
Twain visited Zermatt on his second European journey through Germany, Switzerland and Italy. He arrived there on August 27th 1878, accompanied by his friend and stayed in the village and probably stayed in the Hotel Monte Rosa since it is mentioned in the story.
He says "From this high seat, I had a marvellous view of the Monte Rosa and what appeared to be all the rest of the alpine world. A mighty group of snow-covered summits towered along the horizon. The splendour of the sun on the alpine snow was unimaginable. Nowhere else is there such an exhibition of size and beauty as can be seen from the summit of the Gornergrat."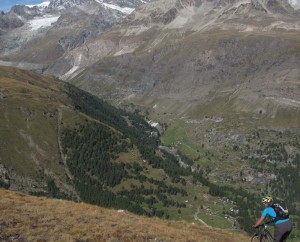 This trail is an amazing trail making you want to read through the amusing description of an expedition onto the Riffelberg. Interestingly, when Twain visited Riffelberg, the train was not yet accessible at that time probably making the walk hard. The story of Riffelberg episode is easy to read within an hour, arises from the heroic and completely exaggerated presentation of an expedition with 205 participants, including mules, cows, ironing ladies and pastry chefs equipped with 22 barrels of whiskey, 154 umbrellas, 27 bottles of opium tincture. "Climbing the Riffelberg" is a unique book to the genus of mountaineering reports.
The trail takes you through spectacular views following Mark Twain's footsteps. You can browse through Twain's book while enjoying the view from Mark Twain Terrace of the Riffelalp Resort, or walk with the book on this magnificent trail. The walk is fairly easy now that there are trains. The walk starts from Riffelberg to Riffelalp. It's about 2.2 kilometers taking you about 50 minutes mostly downhill. The best time to do this hike is around July to October when you can enjoy the wildlife. You can view 29 of 4000 meter peaks including the Matterhorn on this walk.
Whether if you're a big fan of Mark Twain or not, this trail is quite an amusing trail. It would be best to maybe read through his books before going on the walk to make the hike more exciting!