This hike is a relatively short but satisfying and adventurous hike that you can ascend the highest peak that is possible to climb in Europe without a mountain guide! You can see the finest 360 degrees view of Zermatt and the Alps which is actually similar in quality to the Mettelhorn! From the Ober Rothorn you can see the fine close up of the Taschhorn, Dom and Alphubel. By using the mountain lifts, this is one of the fast and spectacular summit hike!
Take a few mountain lifts up to the Unter Rothorn lift station and restaurant where the amazing walk begins. From the cable car terminus at Unter Rothorn, walk by the restaurant and you can see the first half of the track up the nearby Ober Rothorn as it skirts up the south flank. Walk downhill for about 10 minuts east in the direction of the Ober Rothorn. This wide section down is a busy piste in winter so be a little careful. Once you have arrived at the broad "Furrgji" saddle, you will see a signpost that points the way to the Ober Rothorn.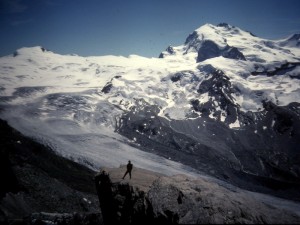 From there, the path ascends uphill east for half an hour, befor a rocky shoulder where it turns left. The path zigzags up a steep rocky slope until you are near the edge of the northerly cliff faces of the Ober Rothorn. By now you should be able to see the superb view of the Rimpfischhorn and Strahlhorn. Before the cliff edge, the path turns west on a further series of zigzags. These paths will take you to the summit ridge where the summit itself is only about 15 minutes away.
From Unter Rothorn, the Ober rothorn applears a little more than a very steep rocky hill. But from the summit you can see the impressive mountain with huge north wall falling thousands of feet into a deep ravine above Taschalp. Finally on the summit of the Ober rothorn, you can see the magnificent 360 degrees view of all Zermatt's great mountains. You can views of Taschhorn, Dom, Alphubel, Rimpfischhorn, and Strahlhorn are absolutely breathtaking! You can return to Unter Rothorn and Zermatt the same way.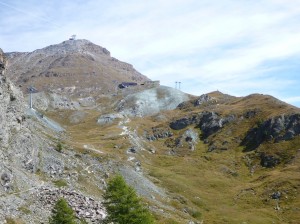 Before this magical hike, just remember to wear good hiking shoes since it is a steep rocky hike and also because it is a very high altitude walk, be prepared for cold and breezy walk. It should be snow-free during summer but it is possible that there is snow any time of the year so be prepared to walk on snow. Since it is very close to the mountain lift station, it is possible that this walk may be crowded due to the popularity. If you want lesser crowd, you can try catching the first lift in the morning from Zermatt or catch the last lift and walk the whole way down from Unter Rothorn. Either way, you will have an amazing journey!