This magnificent walk offers constant views of the Matterhon's most dramatic angles, particularly to the fearsome North Wall. A delightful trail follows the remote Zmutt valley to the Schonbiel hut and climaxes with a magnificent view to the Matterhorn's little seen north west face, and across wild glaciers to the beautiful Dent D'Herens (which is 4171 meters). This walk follows a very long but gentle uphill which is something quite rare around Zermatt. Also it enables one to penetrate deeply into a remote mountain region far from ski lifts and habitation. This walk is something you don't want to miss because it offers uniquely beautiful perspectives inaccessible to downhill skiers.
The walk is about 7 hours in total with 4 hours of uphill at start and 3 hours of downhill. It's quite a long walk but is mostly gentle. The walk begins at Zermatt and goes through Zmutt to Schonbiel hut and back to Zermatt. The highest altitude is at Schonbiel hut at 2694 meters.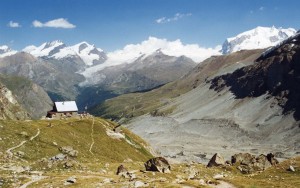 The hike starts from Zermatt, just by the river not far from the Matterhorn lifts. To get to the Zollhaus, just find the river flowing north through the center of Zermatt and take the road upstram alongside so that the river is on your left. Be sure you're on the west bank. The Zollhaus is about 15 minute walk from the main train station of Zermatt and is next to the river and electric bus depot. A wooden foot bridge crosses to the other side of the river and the Matterhorn lifts, and by the bridge there is a big signpost showing trails in all directions. Just continue the road upstream in the direction of Zmutt.
Keep walking along the road to some park benches and public telescope with a view of the Matterhorn. Just beyond this, turn right to the gravel pits onto a broad footpath. After about five minutes, take a right at the intersection in the direction of Zmutt. Keep walking toward Zmutt and you will see the village. Once you're in Zmutt you can either enjoy the charming chapel or eat at the restaurants or keep walking on the north path out of Zmutt.
After Zmutt, follow the trail towards the waterfall. At the base of the waterfall, follow one of the tracks up to the right until you reach the top of waterfall. The waterfall makes a nice place to take a break and it is one of the prettiest waterfalls in Zermatt. From the top of the waterfall at 2300 meters, Schonbiel hut is only 4 km away. Following the path to the edge of moraine wall, you will soon see the hut with steep zigzag trails as the last climb.
Once you get there, you will see 160 degrees of panorama view of the Matterhorn and across the Zmutt glacier to the Dent D'Herens!