Do you love snowboarding or skiing? Well at Gravity Park you can snowboard all year offering a range of possibilities to burn off steam! No matter if it is two slim boards or one wide one under your feet, you can really enjoy feestyling here. For snowboarders, it is absolutely heaven! From thrill seekers to beginners, you can really have fun at Gravity Park.
The Gravity Park is for both beginners and pros with various obstacles such as tabletop kicker with 4 to 13 meter long tables, kinked and straight boxes, double rails and as a highlight there is an 80 meter long Superpipe for the most extravagant moves and jumps! During summer it is located at the Plateau Rosa and during winter it is located at Furggsattel. You can enjoy most of the obstacles during both seasons! Professional boarders tend to the park conditions all year round and even in summer it is open to public. Newbie's and pros will feel right at home at 3,250 meters altitude and over a length of 1,200 meters underlined with perfect obstacle conditions! You really don't want to miss these!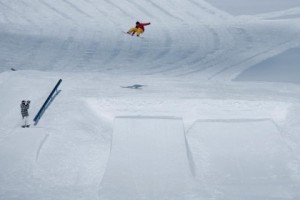 At Gravity Park, they have 1 halfpipe, 6 kickers, 4 boxens, 6 rails, and 1 picknick table! They even placed a 15 meters long, 15 meters wide and 3 meters high airbag near a hard landing spot to help skiers and boarders to add perfection to their high velocity jumps! The airbag is called Air2Bag made by Fotofast and is available to all aspiring skiers and boarders. High velocity skiing is risky. If you don't have the exact know how then you can get into trouble. Tricks in the half pipe can turn disastrous any time with the simplest of moves. The spongy landing on the airbag signifies that technically tricky leaps in the terrain can now be practiced with diminished risk of personal injury. This was a great need fulfilled according to the new adrenalin junkies who can rehearse new maneuvers without thinking of hitting hard on the snow. Guests looking to try the bag jump will need to sign a Waiver and purchase tickets.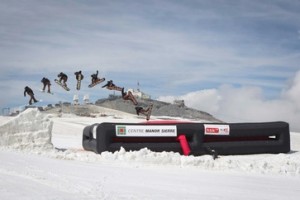 Go grab your skies and boards to try these obstacles! Or if you're experienced and love new challenge, you can try those airbags for an awesome jump! This is one of the places in Zermatt you really don't want to miss if you love to ski or board. If you want more thrill you can check out the service of Zermatt Air for an awesome and thrilling heli skiing! Either way, you will have one of the best times in Zermatt.