This walk has the suspension footbridge soars 90 vertical meters above the Gornerschlucht gorge. The view down to the foaming water of the Gornera river reveals the tremendous natural forces at work. This walk is perfect for warm summer day in Zermatt. An easy walk in Furi has the distance of 2.90 kilometers taking approximately an hour. The bridge is high up and is perfect for adrenaline addicts and to see the gorgeous views from high up on the bridge.
Starting in Furi, the trail first leads through the hamlet and then up to the pioneer landscape with beautiful larch trees. A wooden walkway leads over a small alpine stream allowing the visitors to feel the cool stream water air during warm summer days. The path continues through bushes, a small patch of moorland and a landscape of rocks, rubbles and screes.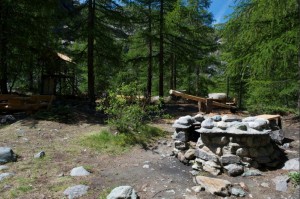 The 100 meter long suspension bridge, made of a lattice and cables of steel, leads from one side of the valley to the other. It's completely safe to cross, but still requires a little courage and a fairly good head for heights. Once on the other side, walkers find themselves once again in an idyllic mountain forest with larches, Swiss stone pines and if lucky cute squirrels. There are barbecue sites near by so visitors with families can stop there to enjoy a nice barbecue before going on the high exciting bridge or after having a nice barbecue in the alpine forest. The highest point on this hike is at 1826 meters with an ascent of 180 meters and descent of 180 meters. Since it is a fairly easy walk, people with children can have an excellent time too.
Near the barbecue site, there is also a playground for children to have more fun. For more fun, visitors can try going to Gletschergarten Dossen or Dossen glacier garden where you can see what a glacier normally conceals. With boulders polished smooth, glacial mills and strange rock formations. Dossen glacier garden shows the effects of the last ice age on the landscape and have wonderful rock cauldrons eroded by meltwater from the glacier. As the water flowed through crevasses to the bed of the glacier, it gathered into torrents and formed whirlpools with speeds of up to 200 kilometer per hour, which scoured cylindrical cavities in the rock.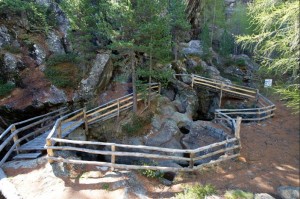 This walk is one of the best walk to do in summer. With wonderful warm weather and beautiful alpine air, people with all ages can have an excellent time walking through the forest to the high bridge. For people with family, there is a playground nearby for children to have fun and a barbecue area for adults to enjoy the alpine forest while watching over their children play at the playground. Just remember to wear a good footwear since there are some loose rubbles and clothing suitable for the weather with waterproof wears.