Air Zermatt was the first company to use the tripod with an invention of an industrialist, Walter Habegger. By 1973, Air Zermatt was the first company in Switzerland to have a doctor on the base. Since 1983, Air Zermatt had anesthetists on the base, which is the top level for a rescue service and these are people who have intensive medical experience. Air Zermatt has performed extreme rescues with extension ropes of up to 65 meters which today is done with up to 200 meters. The equipment that was developed in Zermatt is now the international standard. From 1980 Bruno Jelk, the Head of Rescue in Zermatt, developed a number of things. They have started with France and Italy on an international rescue course or the Triangulaire and flew joint rescue missions. They did not know what Air Zermatt could do, and did not know each others equipment. Due to this, a lot of new things were developed and shown to each other. For comparison, when Air Zermatt was founded, in Italy the military carried out rescues. At weekends and in the evenings nobody could be reached but Air Zermatt carried out the first ever night rescue missions with helicopters. This has become the epitome of Alpine mountain rescue.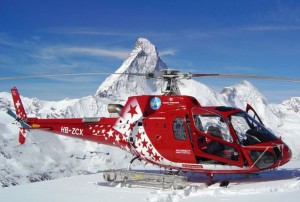 In the first year, Air Zermatt flew around 90 missions and in 2006, there were 1376 missions. This is due to communication development. Back then, the time between an accident and the alarm was much longer than the time the alarm to deployment because there were no radio sets and no mobiles. The mountain guides had to come down to the hut, where there was a radio telephone, and from there they could give the alarm. This was same in the village. Whenever people needed mountain guides for rescues, they had to go to their homes and if not at home, they had to run into bars and restaurants to call them out. The pilots are one of the most important factor in Air Zermatt. They are in the midst of the action and have the technical responsibility for the flight. This means that they come to a point where they say "Can I now take a risk without causing a second accident, or will I have to abandon the mission?". These are experiences which goes deeper. Pilots were always the stars to some extent, but rescuing is teamwork. Air Zermatt has outstanding pilots since they always fly in mountain ranges, to about two and a half thousand meters, not only for rescue but also for transportation, and for heliskiing. If they have to rescue at four and a half thousand meters and the pilot has no experience, that is a big problem. But at Air Zermatt, they have very well experienced pilots.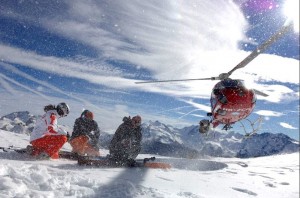 In future Air Zermatt is hoping to built twin-engine helicopters which have the performance necessary for the mountain range and can also carry out rescues at four and a half thousand meters. The single-engine Lama still holds the altitude record with 12,441 meters, but efforts are being made for twin-engine helicopters to be prescribed for rescue flights. With outstanding skills of helicopter pilots and rescue teams, Air Zermatt is protecting injured patients in Zermatt, allowing visitors to enjoy climbing high alpine mountains and skiing freely down the beautiful slopes of Zermatt. Knowing their skills and ability, visitors can enjoy freely with Air Zermatt protecting everybody. Also Air Zermatt provides heli skiing and helicopter sightseeing which is something most visitors don't want to miss.