Zermatt has so many mountains that it is absolute heaven for mountaineers and hikers. From high and magnificent Matterhorn to 38 four thousand meter peaks, there are so many options. But in order to hike up these amazing alpine mountains, gears are necessary. If hikers and mountaineers do not have the proper gears, it causes them to get injured or have to hike down. But what are the essential gears for hiking and mountaineering? Here are some items you can take for a successful summit. If you do not have any of the items but need them, Zermatt has many sports shops where you can purchase mountain gears.
Backpack is an absolute essential item. If hikers and mountaineers are planning on a difficult hike, it may be best to have an ice axe loops on the backpack. Another essential item is shoes. Wearing proper mountaineering boots or hiking boots is necessary item for a successful hike. If you do not wear proper shoes, you could easily trip or fall on loose rocks or sprain your ankle. To prevent injuries, try to wear proper mountain or hiking boots that fits your feet perfectly. Other gears that you will need is crampons, preferably 12 point step in or strap on, anti balling plates for crampons, ice axe about 60 to 75 centimeters, alpine climbing harness which fits over all clothes and have adjustable leg loops, helmet which fits over a hat, carabineers with at least 2 locking and 2 regular, gaiters which fits over plastic boots and for option, trekking poles.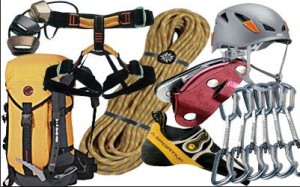 Clothing is also very important. During summer, it may be very warm but high up in the mountains, the weather changes rapidly and winds blow strongly. To prevent getting wet or even worse hypothermia, it is strongly recommended to take hardshell pants and jacket or windproof and waterproof jacket. If you are planning to wear shorts during summer, do not forget to pack long pants that is also waterproof and windproof. Insulated parka which is large enough to fit over all other layers is essential, wind shirt or jacket to wear in middle layer, fleece or wool hat that can cover your ears, neck warmer, ball cap, modular glove system with shell and insulated layers, liner or fleece gloves, glacier glasses which is 100% UV with side shield and nose shield is very important since the sun can easily hurt your eyes, goggles also 100% UV and 2 bandannas.
For inner wear try to either pack or wear 2 pairs tops and bottoms light or middleweight underwear which is not cotton, expedition weight underwear one top and bottom, fleece jacket, fleece pants, 2 to 3 pairs of liner socks, 3 pairs of heavyweight socks which can be worn over liners, and underwear if you are planning to stay overnight at a hut or if planning to camp out. If you're planning to camp out, you will need proper camping tools.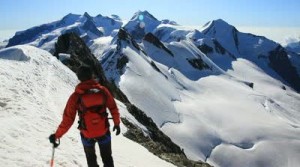 Other essential items that you should have in your backpack is headlamps, snacks or lunch such as dried nuts, dried fruits, energy bar and or chocolate, small towels, sunblock, first aid kit and water bottles. Depending on which mountain you are planning to climb, some mountain huts offer lunches and there you can fill your water bottles. For option, you can take cameras, film, ipod or mp3 player. If you are planning to hike up a rather difficult mountain and or planning to hike for few days, try to take a device or turn your GPS on your phone. These will really help you if you get lost.