Edward Whymper was the first man to ascent the Matterhorn and
as with the first man, the ascent of the Matterhorn by the first woman was considered to be a milestone in Alpine history. At the time, the two most likely contenders were Meta Brevoort from the USA and Lucy Walker from the UK. The two woman Alpinists met in Zermatt in the summer of 1871, just after young Lucy had won the race to the peak.
Lucy Walker began her climbing in 1858 when she was advised by her doctor to take up walking as a cure for rheumatism. Accompanied by her father Frank Walker and her brother Horace Walker, both of whom were early members of Alpine Club and Oberland guide Melchoir Anderegg, she became the first woman to regularly climb in the Alps. On the same year she summited Matterhorn, she completed her fourth ascent of the Eiger during which she is said to have lived on a diet of sponge cake, champagne and Asti Spumante. In all Lucy Walker completed a total of 98 expeditions with only 3 fail to reach the summit. In 1909 she became a member of the newly formed Ladies' Alpine Club where she was acclaimed as the pioneer of women climbers. For climbing, Lucy wore an ankle-length dress which could hardly have assisted her in some of the more dangerous ascents. After a climb, she would carefully smooth down the white print dress before returning to the inn. That such clothing could be dangerous is evident in the case of Kathleen Richardson who was nearly killed when her climbing companion's skirts dislodged a rock which crashed down of Richardson's head.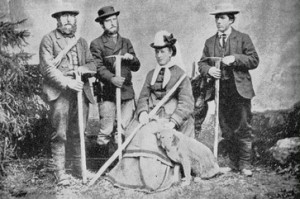 On 22 July 1871, the editorial office of the Journal de Genève received a telegram from Zermatt. The Englishwoman Lucy Walker (1836-1916) had just become the first woman to climb the Matterhorn – wearing a long flannel skirt as was appropriate for a Victorian lady. Reaching the peak a mere six years after her fellow countryman Edward Whymper had first scaled the mountain, her ascent was seen as a jewel in the crown of female mountaineering. The news of her achievement spread like wildfire across Europe and over the Atlantic. Four days later, Punch magazine even dedicated a poem to Lucy Walker, entitled "A Lady has Clomb to the Matterhorn's Summit"