The Matterhorn was regarded as the most desirable trophy by both men and women mountaineers. Lucy Walker was not the only woman whose dream it was to reach the peak. Various women attempted the ascent, most notably Meta Brevoort (1825-1876), a New Yorker who had settled in England. Just like Miss Walker, Meta was making a name for herself in the mountaineering world in the late 1860s. In 1869, she undertook her first attempt to climb the Matterhorn and, approaching from the Italian side, reached an altitude of just under 4,000 meters before being forced to turn back due to severe weather conditions. Two years later, however, Meta Brevoort decided to give it another go, setting out for Zermatt with the aim of attempting another ascent. Lucy Walker was already in Zermatt though and, on receiving word of Ms Breevort's intentions, quickly assembled her own group in order to begin her ascent of the Matterhorn, a feat that would make her the most famous female mountaineer of the era.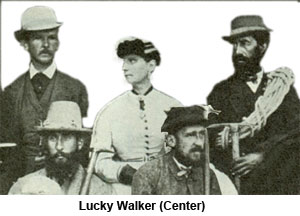 Meta Brevoort arrived just after Lucy's achievement to receive the shocking news that she had missed her chance to win the ultimate trophy. That very evening, the two women met each other in Zermatt. What Meta really felt on this occasion is anyone's guess but contemporary sources state that "there were congratulations" – noblesse oblige. This would be the only occasion that the two most prominent female Alpinists of the era would meet, somewhat unusual considering that they came from a similar background. Lucy Walker came from a wealthy merchant family in Liverpool and Meta Brevoort from a family of Dutch immigrants who made a fortune in New York as property owners. Contrary to the strict notions of Victorian society, both women were outgoing and cheerful characters with a lively spirit. According to her obituary, Lucy was known for her "warmth, humor and buoyant personality" while, according to chronicler Cicely Williams, Meta stood out for her "astounding vitality and her exception gift of living life to the full".
Meta, however, was not cowed by Lucy's successful ascent of the Matterhorn. She waited until conditions on the mountain were just right and, on 5th September, became the first woman to traverse the mountain from Zermatt to Breuil (Cervinia) in Italy. During the following two weeks, she also became the first woman to ascend the Weisshorn (4,506 meters) and the Dent Blanche (4,357 meters). Five years later, Meta Brevoort died in the English town of Dorking shortly after being diagnosed with a cardiac infection – still ready for action and her head full of mountaineering plans, including dreams of Everest. Lucy Walker continued mountain-climbing until 1879 and thereafter returned to Zermatt to meet up with friends and go hiking with her mountain guide Melchior Anderegg who was also getting on in years. From 1913 to 1915, she held the honor of being Vice President of the British Ladies' Alpine Club before passing away at the age of 80 in 1916.