Via Ferrat has impressive rock formations surrounded by thundering waters at the Gorner canyon between Furi (1865m) and Zermatt (1620m) presenting a unique display of the beauty and power of nature. If you want to experience rock climbing, this is one of the adventure you don't want to miss. The climb allows you to view beautiful edelweiss while climbing and you can see Zermatt directly below and by climbing higher, you can see it increasingly getting smaller. You can chose 3 routes, A, B and C.
The walk to Via Ferrat starts from Zermatt station by following to Bahnhofstrasse and ends at Zermatt. Starting from Zermatt station go towards Alpin Center after, turn right onto the path leading to Edelweiss and Trift. Climb out of the village up towards the Triftschlucht gorge and follow the path. You will reach the bridge over the Triftbach river, and from there turn right onto the trail leading to the start of the Via Ferrat. The hiking trail from Zermatt station isn't that difficult but you still have to overcome 150 meters of altitude. The path is goes through beautiful larch forest and past large, steel avalanche barriers.
Route A
This route is the easiest route with the distance of 2.73 kilometers taking approximately an hour and 15 minutes. The ascent is 377 meters with the highest point of 1924 meters. This route is excellent for families where you can see an exposed sections above the Triftbach river and the beautiful edelweiss. On this route, there is an ideal spot for picnic close by the Beresina hut. It is completely relaxed route with some easy scrambling at times on all fours. This route is excellent to get used to the safety techniques such as hooking the carabiner on to the fixed steel cable then climbing higher and transferring to the next section by rehooking. The route slowly changes into vertical cliffs with u-irons fixed into the rocks. From there you can view the village below. After continuing for about an hour, you will reach Berseina Hut which was built in 19th century. You can rest there or eat lunch or dinner there with the beautiful view of Zermatt far below.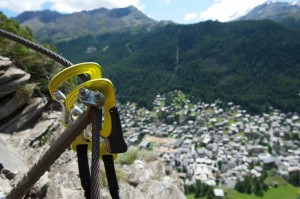 Route B
The access is same as route A but has several different ways to access this route. The main route has smooth, vertical and in placed overhanging rock wall with traverse along swinging tree trunks. This route is for experienced climbers with medium difficulty. The distance is about 3.3 kilometers taking about 2 hours and 15 minutes. The height of ascent is 538 meters and the highest point is 1971 meters. For descent, just follow the path back to Zermatt which will take approximately 20 minutes. On this route you can view the beautiful village below and the alpine flower edelweiss.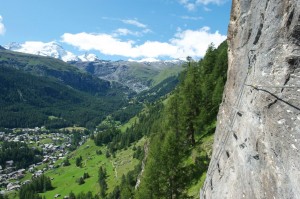 Route C
This route is for experienced climber with medium difficulty and the distance of 5.51 kilometers. Approximate time is 3 hours and 30 minutes with an ascent of 884 meters and the highest point being 2163 meters. The route leads up a vertical rock wall with a wobbly and swinging cable ladder. After that, comes an exposed section with nothing under climber's feet other than the iron rungs fastened to the rock. If you are planning to go through all three routes, you will need good level of fitness, stamina, and climbers should plan carefully in advance. On this route you can view the carved wooden statue of the Virgin Mary by Hugo Lehner from 1948 and the beautiful alpine flower edelweiss. To descent, after completing the route, follow the path northwards where it takes you back to Zermatt taking approximately an hour and 15 minutes.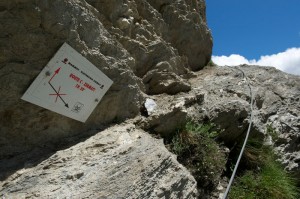 For all these routes, you will need strong footwear, clothing suitable for weather, climbing harness, helmet and necessary gears for rock climbing. On the route, there is not water so don't forget to take water. For route A, take at least half a liter of water and for both B and C, take at least 2 liters since the rock walls radiate great deal of heat and you can easily get dehydrated. The mountain weather changes quickly so don't forget to check the weather before climbing. Also don't forget to take food such as dried fruits, nuts, energy bars or chocolates. If you're planning to descent around afternoon, don't forget to take headlamps since you never know where you might run into delay.