The Dom is the highest mountain located entirely on Swiss territory. This majestic peak is a massive and impressive mountain in the central axis of the Mischabel group, located between the Taschhorn and the Lenzspitze. It is the highest mountain entirely on Swiss territory. After Mont Blanc and the Monte Rosa (Dufourspitze, Nordend, Zumstein and Signalkuppe), the Dom is the third-highest summit in the Alps. This mountain is one of the popular mountains for mountaineers and it can also be climbed by skis.
The origin of the name Dom is a German cognate for "dome" which can also mean cathedral and it is said to have been named in honor of the Domherr or canon of Sion, Joseph Anton Berchtold, the first person to survey the Mishcabel group in 1833. The first ascent was made from the north-west ridge by J.L.Davies with guides Johann Zumtaugwald, Johann Kronig and Hieronymous Brantschen on September 11th 1858. The first ascent by ski was made by the British skier Sir Arnold Lunn together with the mountain guide Joseph Knubel on July 18th 1917 and he was the first person to climb the north-east face of the Eiger.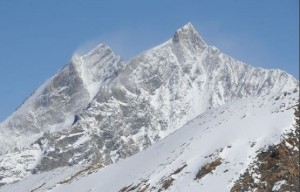 Despite its considerable height above the surrounding valleys, the Dom can be climbed quite easily, as the normal route does not present major difficulties. It is however a demanding 3000 meter ascent with objective danger in the upper part. Cable cars and other facilities are located only in the Saas Fee area on the east side of the mountain, from which all the routes are difficult. The easiest way to the summit starts from Randa where a trail leads to the Dom Hut. Climbing the mountain requires an overnight stay. Most popular sleeping sites are the Dom hut and the camping place one hour higher from the hut. The hut needs to be booked in advance and is not free to use like the camping place. The normal route starts from the hut and goes towards the Frestijoch pass. Then it follows the Hohberg Glacier to the summit above the north face. The Festigrat, traversed on the first ascent, is the north-western ridge going directly from the Frestijoch to the summit. It is preferred by climbers who wish to avoid the long slopes of the north flank.
Even though it is one of the easy 4000 meter peaks, hikers and mountaineers must have a proper mountain guide to go up the summit. Also hikers and mountaineers must have an experience to proper hiking gears in order to go up the summit. There are many visitors who choose to go up to Dom hut for a nice meal and to view all the amazing alpine mountain surroundings.