In 2015, Zermatt will be celebrating the mountains of mountains. The Matterhorn is the focus of the 150th year jubilee and throughout the year, events and festivities will mark the first ascent of the last four thousand meter peaks in the alps.
On July 14th 1865, the British climber Edward Whymper reached the peak of the Matterhorn at 4478 meters together with is rope team. 150 years later, the Matterhorn will stamps its imprint on the village at its base. In 2015, Zermatt will celebrate the mountain and the alpine tradition with events, experiences, festivities and special offers. The main player on this stage, besides the Matterhorn is the Hornli hut which will reopen in July 2015. During the year, Zermatt will be holding mega-events as well as larger and smaller events to celebrate the anniversary. On March, there will be Swiss holiday 2015, on June a district music festival and the official celebration for the anniversary will occur on July 14th. And after the official celebration, Hornli Hut will finally open followed by folklore festival in August and Swiss Food festival. There will be many more festivals and events that will be continuously updated.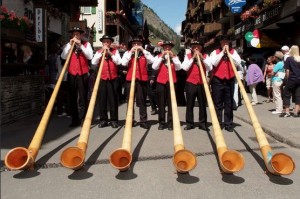 There will also be Zermatt's first open-air theatre in 2015, celebrating 150th. There will be a theatrical performance with a high musical content about the first ascent of the Matterhorn. Performances will be staged in the open-air theatre for the first time, on the 150th anniversary of the first ascent of the Matterhorn. Spectators will experience what happened during the first ascent. A story of triumph, betrayal and death. The theatrical piece, which has a high level of musical content, will be performed in English and German on the Riffelberg in Zermatt for four to six weeks in July and August of 2015. They still have not decided the title but currently they are calling it the "Zermatter Freilichtspiele" or Zermatt open-air theatre. Thomas Sterchi who also organized the Zermatt unplugged music festival will be organizing and carrying out the project.
So, if you're thinking about going to Zermatt in 2015, it may be wise to make an early reservation and check which events and festivals interest you so you can enjoy full at Zermatt. You can just enjoy the festive atmosphere with everyone, or try hiking up to the new Hornli hut with other mountaineers. Swiss food festival is great for people who wants to try the local foods and music festival is great for visitors who wants to listen to new kinds of music.