At height of 4,357 meters, Dent Blanche has an almost regular pyramid shape with four ridges. And on the summit of this beautiful pyramid shaped mountain, there is a metal cross marked with the year 1966. This wonderful mountain is one of the highest peaks in the Alps.
The Dent Blanche is one of the more demanding 4000 meter peaks for mountaineers. Together with the Obergabelhorn and the Zinalrothorn, the mountain forms the southern end of the Val de Zinal. The German-French language border runs through here and the Dent Blanche is a powerful, largely ice-free pyramid with four ridges in the four directions of the compass. The Dent Blanche hut at 3507 meters is the highest altitude Swiss Alpine Club refuge in Switzerland. The hike to the cabin alone involves a climb of 1700 vertical meters.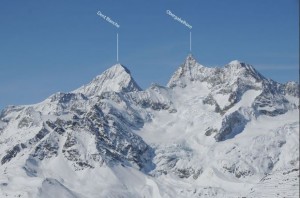 The origin of the name is sometimes confused between the names of the Dent Blanche or White tooth and the Dent d"Herens, which is only visible from very few places in the Val d'Herens. And the mountain is not as white as the name suggests, in fact is it almost ice-free. The Dent Blanche is actually also shown at the location of the Dent d'Heres on some old maps. The confusion is not surprising, because the first cartographers, whose experiences with mountain residents were not too good, often produced their maps from afar. The confusion is further exacerbated by the fact that, in the middle of the 19th century, the Dent d"Herens was known as the Dent Blanche by the inhabitants of the lower valley, and as the Dent de Rong or Dent d'Erins higher up the valley. There is no current German name for the Dent Blanche, although there are historical references to the Steinbockhorn or Ibex peak.
The first ascent was made via the south ridge or Wandfluegrat, which is less difficult route to the summit and the actual normal route. On July 12th 1862, T.S.Keennedy, after an attempt on the east face of the unconquered Matterhorn, almost reached the summit with the guides Peter Taugwalder and his son. But after a minor accident, Peter Taugwalder refused to go any higher. Kennedy would finally reach the summit only a few days later on July 18th, 1862.
This high 4000 meter peak is a 2 day trip combined with high altitude tour on rock and ice. There for making it very difficult to reach the summit, mountaineers must have mountain guides. Also since it is a very difficult trail with rocks and ice, mountaineers must be used to proper gears to go up the summit.