The Glacier Express is one of the most popular train for visitors at Zermatt. It travels from the Matterhorn to Piz Palu and to St.Moritz. There is more quicker ways to reach the Upper Engadin but this is one of the most beautiful trip up there. Visitors can enjoy the beautiful landscapes that seem to glide past the trains panoramic windows on this gorgeous trip. Not only the views but guests can enjoy fine foods and drinks on this magnificent ride.
The workers of Glacier Express makes sure guests on this train will have a wonderful ride by making sure what foods and drinks they want. Once the passengers have studied the menu and order lunch, it is all systems go for the kitchen and service staff. Gastronomic situation is then discussed with the head chef, and finds out the guest's culinary preferences and if they have dining vouchers. If so, they collect these and passes on the order. The most important task for them is to find out who will be leaving the train during the journey and where. They do that to ensure that guests have enough time to enjoy their meal without feeling rushed. Once they know those information, they can organize a reliable service sequence.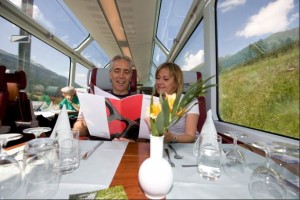 There are some guests who board the train without prior reservation feeling suddenly hungry and wanting to eat when they see what Glacier Express have to offer. The available time then has to be taken into account when deciding which meals it is possible to serve. If requests can not be met, (which may happen when there are many guests on the train), the head waiter has to find the right words to console the disappointed guests. But despite the disappointment, there are still many options that usually pleases the guests.
This wonderful train ride starts from Zermatt then goes to St.Moritz or from Zermatt to Davos, or Zermatt to Chur. The train goes through 91 tunnels and 291 bridges with magnificent alpine views. On the route, visitors can view magnificent mountain summits, passes, steep rock faces, forests, lakes, gorges, bizarre rock formations, plains, mountain villages, glaciers and eternal ice. This train ride has everything you want to see around Zermatt. The ride is approximately 5.5 hours to 8 hours depending on route but on this long ride, visitors can not only enjoy the magnificent views of the alpine area but also enjoy 3 course menu with fresh regional products. If you want to enjoy their full meal, it is best to make a reservation.