Zermatt is one of the best place for families. From skiing, hiking, shopping to swimming, Zermatt clearly has everything for everyone. But what about families with babies and have to carry around their carriage? Some places are too hard to walk around with baby carriage, especially on hiking trails up in the mountains. But families with babies also want to go out into the mountains to hike or just to relax in the clean fresh mountain air. Unfortunately, with the baby carriage, sometimes it's hard to stroll around on the roads when the trails are filled with loose rocks making it bumpy and unstable to push the carriage. But not to worry, Zermatt, Tasch and Randa offers the most beautiful hiking trails that are accessible with baby carriages.
Waldweg Zermatt is the path that traces a leisurely zig-zag through the mixed larch forest. The trees provide shade but also offer frequent views to the horizon. Around Ried, the vista opens up dramatically to reveal the beautiful Matterhorn. When the sun shines on the forest, the resin of the larch and Swiss stone pines gives off a lovely scent. Just take a deep breath and enjoy its soothing effect. All along this well-made gravel trail, there is rustling in the foliage. You might spot a squirrel gnawing at a pine cone. This medium difficulty trail starts from Tufterren and ends at Zermatt with the distance of 6.24 kilometers taking an hour and 50 minutes. The highest point is at 2212 meters taking an ascent of 128 meters and descent of 732 meters.  This trail has a clear view of the magnificent Matterhorn with excellent botanical highlights and refreshment stops.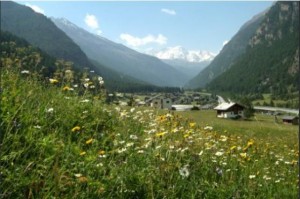 Dorfwaldweg or Village Forest Path offers new arrivals a perfect opportunity to get acclimatized and is also an ideal walk with children. Sometimes the switch from stressful daily routine to restful mountain holiday happens all too quickly. Holidays are all about relaxing, so a day spent acclimatizing on the valley floor is well spent. This gentle walk through forest and across pastures around Randa is an ideal walk. This easy walk starts from Randa ending at Randa with the distance of 4.48 kilometers taking approximately an hour and 20 minutes. The highest point is at 1586 meters with an ascent of 240 meters and descent of 240 meters. This wonderful trail gives you the beautiful view from valley floor towards the Klein Matterhorn with wonderful botanical highlights and refreshment stops.