There are so many things to do in Zermatt and so many places you can ski that sometimes it is hard to decide. For those who wants the best, you can try Alpine Exposure. They offer an awesome package where you can choose where to stay and they will plan your vacation!
Without a doubt, Zermatt is one of the most popular destination for skiing and snowboarding. Alpine Exposure offers you a perfect vacation package. They know where to find the most optimum accommodation for any size group as well as the best terrain, snow conditions and après-ski nightlife! They also have networks with local partners so you can connect with the community allowing each trip to be unique and more intimate. They offer you one of the best memorable vacation in the Alps!
To make your winter vacation the best in Zermatt, choosing places to stay is vital. From luxury apartments to simple studios, Alpine Exposure makes sure that you leave the Alps having experienced the ultimate week of skiing and snowboarding with a place best suited for your personal needs.
For Hotels, they have selection of their favorite hotels which are all centrally located and within walking distance to the lifts, shops and restaurants. They put an enormous amount of emphasis on the feedbacks that they have received from their clients who continue to give perspective that they need for organizing the trips each year.  So basically they know the best hotels for you to relax in after an amazing time in Zermatt.
For skiing, they offer you a ski host and resort concierge. They know Zermatt inside and out so well that they will be ready to show you the best places to ski or snowboard while you're on the slopes. You can enjoy skiing or snowboarding without trying to find which ski places is the best, or even about the snow conditions because they will do it all for you. After you're done with the exciting slopes, they can point out the most popular places for après ski or simply accompany you back to the village to your hotel.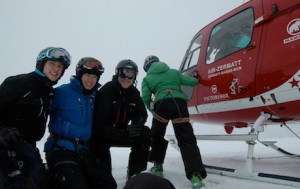 That's not all! They even offer Heli-adventures! You can get dropped off on a field of untouched powder if you're a hardcore skier and snowboarder. Air Zermatt offers several excellent options for heli-skiing. There are actually at least ten different routes you can choose from. Starting at an altitude of nearly 14,000 feet with a vertical difference of almost two miles. If you're a thrill seeker and already planning to heli-ski but don't know where to start, then this is the ideal package for you!
So if you want to have one of the most amazing time in Zermatt but don't know where to start or just too lazy to plan all the details, you can just book Alpine Experience! You can have your dream vacation without all the planning and reserving!