This spectacular summer hike is difficult but has an amazing view of the valley of Zermatt. The Matterhorn can be seen from its most photogenic side at all times including beautiful wildlife. This hike offers a great deal of variety.
Abenteuerweg or Adventure Path starts from Rothorn at 3,085 meters and ending at Tufternalp at 2,215 meters. This steep trail rewards hikers with magnificent view on both sides. You can view the Alpine panorama with dramatic 4,000 meter peaks and way down to Zermatt and into a small, secluded side of the valley. The view is absolutely gorgeous.
This route fully lives up to its name Adventure Path, tackling about 900 meters of vertical path over a distance of 4.1 kilometers. In other words, it is a very steep descent and a challenging climb. It is a rather challenging hike but is definitely a thrilling hike too! With all the challenge to the hike, it adds a magnificent view! From the Ritzengrat ridge into the small and secluded Tufterkumme valley may take your breath away. If you're lucky you might be able to see chamois.
The walk is rather difficult so you need to be experienced or have good health conditions. The length of this hike is about 4 kilometers with ascent of 30 meters and descent of 907 meters. It takes about an hour and 40 minutes to complete the walk. It isn't a long walk but is one of the challenging walk you can do.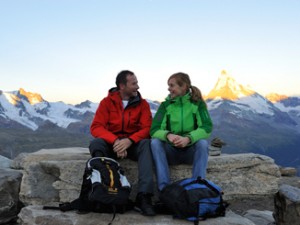 Despite the long descent, you will have the impressive views of the Matterhorn, Weisshorn and other dramatic peaks. If you go early in the morning or at evening, you may have a good chance to spot wildlife allowing you to give a chance to take a wonderful picture.
Or, depending on season, you may be able to see the sunset on the Matterhorn! It is absolutely gorgeous from there. For more information or recommendations, you can go to the guest information center on Bahnhofplatz by the railway station.
Since it is a rather difficult walk, remember to plan your tour very carefully including your fitness level, weather and season. Weather conditions in mountains changes rather quickly so plan ahead with appropriate clothings, food and water. If the weather seems even a little bit uncertain, don't push yourself and turn back. For mountain hikes, not only do you need the strength to climb but also the strength go back. Also try to avoid going alone and don't leave the marked routes or try to create an adventure by going onto the glaciers without a mountain guide. It may seem adventurous but it is just dangerous. Last but not least, please take not of the warning signs drawing attention to the constant danger in river beds and along watercourses below dams and reservoirs.
Keeping those important things in mind, have a wonderful and most memorable hike through the beautiful Alps!