The wildlife area of Zermatt, Tasch, Randa is among the largest in Switzerland. It is home to ibex, chamois, stag, roe deer, marmot and many other animals that visitors to Zermatt normally don't get to see in their home country. And what is so special about the Zermatt wildlife area is that you can observe the animals both in summer and winter without great expense. If you are planning to travel to Zermatt with your family and want to see these beautiful animals, it is wise to check which season they are agile and where they can be spotted.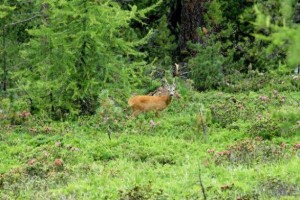 Those who take the Matterhorn Express from Furi to Schwarzsee are in for a surprise in winter. Depending on the snow and weather conditions, up to 50 chamois can be spotted from the cable cars on the slopes of the Schafberg. But as soon as there is danger of an avalanche the animals vanish like magic. Chamois, who can adapt themselves very well to their alpine environment, leave the slopes before avalanche starts to roll. But as soon as the danger has passed, they come back to the snow-free parts of the avalanche area and feed on the withered autumn grass. Ibex are also not hard to find in the Zermatt mountains. They can be spotted just outside the front doors. On the Gornergrat, where there are salt stones during summer, you can see them standing still majestically and surveying the mountain world around them.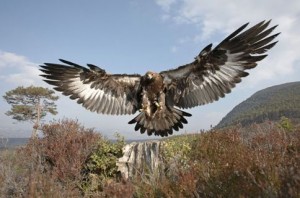 One may be lucky enough to catch a glimpse of a golden eagle or even a bearded vulture. And by observing carefully the prints, one can recognize the tracks of white hares or foxes. Feathered species are also well represented such as golden eagles, snow grouse, rock partridges (which is very rare) and birds of all kinds.
But you don't have to leave the village to see this amazing wild animals. You just have to stay awake at night. There are badgers in Zermatt that scurry around the church during sleeping hours. Families of martens help themselves out of the rubbish containers. And dozens of foxes are drawn to the village every night, as the locals feed their cats in the open air. But please remember that feeding these animals are forbidden and human contact must be avoided no matter how cute they are. All these animals must be protected and if, by any chance, you spot these animals while on a hike, skiing or biking, please do not follow them or scare them since some of the animals get easily scared and may die from fear. If you are planning to go see these beautiful animals around Zermatt, don't forget to take your binoculars and cameras.