Bar Le Petit Cervin offers an amazing atmosphere in front of the cracking fire where visitors can enjoy a drink and live musics. Visitors here can enjoy the magnificent view while relaxing in front of the fire and occasionally enjoying the live music they offer. They have rich culinary specialties where visitors can enjoy at one of the 40 seats. Relaxing after a nice stroll around the main street or if you just want to have a good time with your friends and family this is one of the place you want to go. The restaurant and toilet is both wheelchair accessible.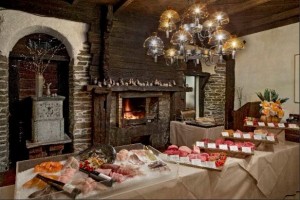 Beau Site offers a simple and varied cuisines. Alongside their daily 4-course menu with a selection of their courses, which always includes a vegetarian option an d a salad and cheese buffet, they offer themed evenings. On Sunday they offer evening of Swiss specialties with raclette and cheese fondu, on Wednesday they offer Gala dinner with dessert buffet, on Thursday they offer fondue chinoise with meat or fish and a chocolate fondue for dessert, on Friday they offer unique, grand barbecue evening with 13 types of fish and 25 types of meat from an as much as you can eat buffet. They also offer wine list with specialties from Valais, Bordeaux, Burgundy, Italy and Spain all at an excellent quality and price ratio. This gourmet, grill restaurant really has it all. They offer gluten free, lactose free and vegetarian menu for visitors and you can enjoy their delicious meal at one of 80 seats inside or one of 36 seat outside. This spectacular restaurant is wheelchair accessible with toilet.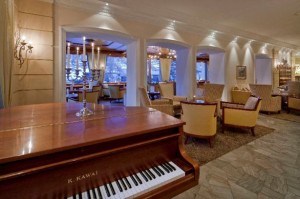 Beau-Site Piano Bar has preserved some of the flair that gave typical 20th century Swiss Grand Hotels their splendor and renown. This is a place where the traditional and the modern have come together in a unique symbiosis. Visitors can enjoy the fine spirits, champagne, fruit brandies or fancy cocktails while listening to beautiful strains of piano music. A smoker's lounge is also available for the discerning aficionado. From their panorama terrace, which adjoins the Piano Bar, you can enjoy the fantastic view of the village and the majestic Matterhorn. The Beau Site is in a quiet, magnificent location just a few steps from Zermatt's center. You can enjoy the wonderful atmosphere at one of 60 seats inside or one of 30 seats outside while enjoying the beautiful music or viewing the amazing Matterhorn. Both restaurant and toilet is wheelchair accessible.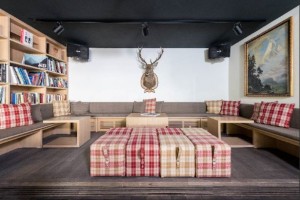 Cervo bar lounge is a beautiful place with the balance between alpine chalet, cabin, hunting lodge and the right dose of modernity. You can meet up here in the winter during the day for a stylish après-ski or in the summer for a refreshing drink at the end of a wonderful stroll. In the evening, Cervo bar lounge offers a cozy atmosphere in which to enjoy a relaxed aperitif or digestive. You can reach Cervo mountain boutique resort comfortably from the center of the village on 10 minute walk or a short lift ride. Visitors can enjoy their delicious fish specialties with the live music or have a delicious glass of wine at the smokers room. Both restaurant and toilet is wheelchair accessible. Visitors can also enjoy at the Cervo restaurant where they serve fresh, uncontributed classics and special dishes from the region and the province between open fire and Swiss pine wood.