The Challenge Trail is a snowshoe trail that leads close to the Gornergrat Bahn railway line from Gornergrat down to Rotenboden. Sparkling snow, sunshine and a magnificent mountain panorama with the Matterhorn promises a memorable hike. Especially after fresh snowfall, this walk promises pure pleasure. Hikers following the leisurely trail barely notice the descent of about 300 vertical meters. The mountain vistas are so beautiful taking in the Matterhorn, Klein Matterhorn, Breithorn and other peaks. Railway enthusiasts are also in for a treat, with fine views of the cog trains of the Gornergrat Bahn as they twist prettily and almost silently through the snow blanketed landscape. This unusual route away from the ski pistes starts from Gornergrat and ends at Rotenboden with total distance of 1.66 kilometers taking approximately an hour. The highest point on this trail is at 3079 meters with an ascent of 36 meters and descent of 302 meters. There is a pink marker approximately every 100 meters along the route allowing hikers to stay on track and to avoid disturbing wildlife when off the marked trail.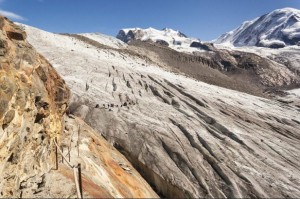 The Climate Audio Trail or Zermatt's Klimahorpfad leads high into the world of the glaciers and mountains. Audio guides reveal fascinating insights into the climate. First step is to collect audio guides before taking the Gornergrat Bahn cog train to Rotenboden. From here, the trail leads across the Gorner glacier to the Monte Rosa hut at 2883 meters. The hike of about four hours allows plenty of time to listen to nine stories about the climate, each lasting about five minutes. Visitors can also listen to the climate stories on the train ride to the Gornergrat without doing the hike but this hike has excellent views of the alpine mountains that you don't want to miss. This rather challenging hike starts from Rotenboden and ends at Monte Rosa Hut with total distance of 7.35 kilometers taking approximately 4 hours. The highest point on this trail is at 2886 meters with an ascent of 526 meters and descent of 463 meters.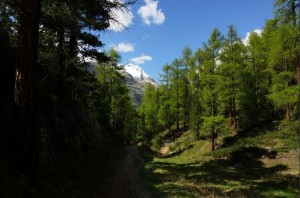 Direttissima is a path that leads straight down to the village as the name suggests. This trail brings hikers straight from the wooded world of the alpine slopes into Zermatt village. The idyllic path leads through mixed larch forest, at times over a soft floor of larch needles which hikers have to be careful since it can be rather slippery surface, but also across mini pastures with small barns known as Gadi in the local dialect. The small clearings in the woods are delightful spots to pause, relax and enjoy the fresh forest air. This wonderfully relaxing trail starts at Tufteren and ends at Zermatt with total distance of 4.40 kilometers taking approximately an hour and 20 minutes. The highest point on this trail is at 2213 meters with an ascent of 35 meters and descent of 640 meters.