Dorfwaldweg or Village Forest Path offers new arrivals a perfect opportunity to get acclimatized and is also ideal walks with children. Sometimes the switch from stressful daily routine to restful mountain holiday happens all too quickly. Holidays are all about relaxing, so a day spent acclimatizing on the valley floor is well spent. This gentle, easy path starts from Randa and ends at Randa with total distance of 4.48 kilometers taking approximately an hour and 20 minutes. The highest point of this trail is at 1586 meters with an ascent of 240 meters and descent of 240 meters. This beautiful walk through the forest is absolutely a relaxing and refreshing walk you can take with your family. Children will have fun walking through the alpine forest with beautiful pastures around Randa. Parents and children can enjoy the magnificent view from the valley floor towards the Klein Matterhorn. You can take a wonderful family photo with the Klein Matterhorn as a background, surrounded by beautiful alpine flowers.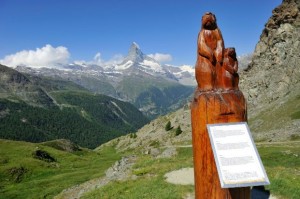 Marmot Trail is one of the trails you can't miss with families. It offers a chance to watch cute marmots up close. Marmots are fascinating animals, comical creatures whose shrill warning whistles can be heard from far away. This path offers an ideal opportunity to watch the antics of these furry rodents, which live in burrows and are active by day. This cute, medium trail starts from Blauherd and ends at Sunnegga with total distance of 3.81 kilometers taking approximately an hour and 10 minutes. The highest point on this trail is at 2578 meters with an ascent of 134 meters and descent of 425 meters. While walking on this trail, if you are lucky, you may be able to see the charming sight of the young leaving the burrow for the first time. Since marmots hibernate during winter, summer is the best season to go on this trail. On this trail, they have panels describing the life of the marmots in German, English, French and Japanese. There is also a marmot observation posts at Sunnegga so you can take your children there to check out what marmots look like.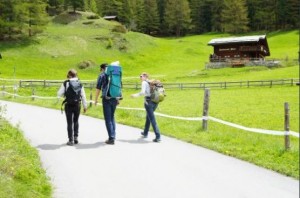 Furiweg is a quiet road that leads from Furi down to Zermatt. A stroll in the pleasant shade of the larch trees can lead to some delightful surprise. Most of the time this lane is wonderfully tranquil, hardly anyone is about. Now and again, a squirrel bounds across the road. This easy, relaxing walk starts from Furi and ends at Zermatt with total distance of 4.92 kilometers taking approximately an hour and 10 minutes. The highest point on this trail is at 1864 meters with an ascent of 97 meters and descent of 354 meters. This beautiful walk offers the gorgeous views down into the valley and up to the mountains. This is perfect for families since it offers a sunny and shady stretches that alternates allowing walkers to hide from the bright summer sun once in a while. It is also wheelchair accessible so families with baby carriage can walk through the beautiful woods of larchs and Swiss stone pines.