Do you love to golf? How about playing golf in Zermatt where you will be surrounded by the gorgeous alps and beautiful fresh alpine air. In Zermatt there is wonderful golf course where you can play nice round of games. The Matterhorn Golf Club is situated in the valley between the villages of Attach and Randa. You can play the 9 hole course at the foot of the most famous mountain of the world at an altitude of 1400 meters.
The Matterhorn Golf Club is on the right side of the main road between Visp and Zermatt, just after the village of Randa and across from the restaurant Hole-In-One. Since it is very close to the internationally famous resort of Zermatt, your family can be shopping or hiking while you play a nice round of game or you and your family can all join to play. The course splits in two, on either side of the Vispa river. It is an easy course that is almost flat so you can have a nice relaxing game. Former marshland has been transformed into a lake, including an island that serves as a green! The Scottish architect, John Chilver-Stainer, has ensured that the 21 acre course site is harmoniously integrated into the natural lanscape.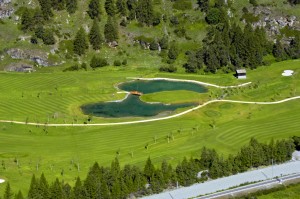 The golf course offers a nice view of the famous mountain Breithron from the elevated tee-off of hole 2. You can also play an exciting game in the heart of Swiss Alps with a splendid view of the Klein Matterhorn. Matterhorn Golf Club is not overwhelmingly long but the six holes on which water-hazards are in play make it technically, as well as tactically, challenging. The length of the par course are 2931 meters with 9 holes and has Par 36. The facility is open from May to November with nice facilities such as the restaurant The Hole in One which is normally open everyday, Pro Shop, Driving Range, Pitching Green and Putting Green.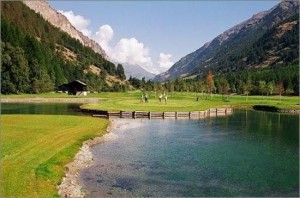 If you prefer to go a little far away from Zermatt, you can try playing golf at Golf Club Cervino. This course spreads out at the foot of the Grandes Murailles in an altitude of 2000 meters in slightly sloping terrain, which however doesn't show and crossings or other deranging characteristics. The green of the routes contrasts sharply against the glaciers of the Grand Murailles at the foot of the Cervino, which domineers the valley with the eternal snow of the Furgen and the Plateau Rosa.
Further away from that is Golf Club Fressoney Monterosa. The course is situated in immediate vicinity of the city center of Gressoney and is embedded in a nice mountainous landscape with magnificent views on the glaciers of the Monterosa with the fairways sidle in between wild creeks and water falls.