Photopoint Bench above the Grindjisee is the landscape around the Grindjisee lake and it is so beautiful that looks as though it belongs to another era. Framing it are the Matterhorn and other 4000 meter peaks which is a spectacular view. The view of the primeval mini landscape around the Grindjisee is enchanting. The thrilling contrast between the lake and background, the Matterhorn on the horizon, makes a magnificent photograph.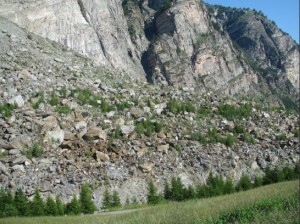 Randa triple rockslide at Randa which took place in 1991 is also another popular photopoint. Boulders as big as houses are visible today scattered across the enormous cone of rock debris with larches steadily stand around the terrain giving a unique and beautiful photopoint. No one was hurt in the three rockslides but the railway line got buried and the road was also covered with rock debris. The Swiss army helped lay a new railway track for the Matterhorn Gotthard Bahn within ten weeks and a detour road was built. Finally engineers excavated a 20 meter deep channel through the rock debris allowing the water in the reservoir to escape and the Vispa river to flow freely once again. The point to take a beautiful photograph is at the cone of debris and bare cliffs that are exposed by the rockslide and also the green larches among the white-grey rocks of the cone of rock debris.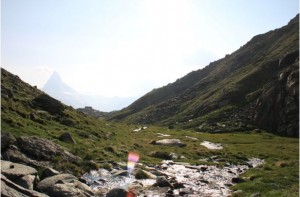 Fluhalp, towards the rock climbing are is behind the lateral moraine of the Findel Glacier and visitors encounter a totally untouched mountain landscape with distant views of the Matterhorn which gives the best photopoint. It is only a quarter of an hour's walk from the Fluhalp mountain restaurant to reach this completely untouched stretch of mountain landscape. Here, cotton grass and mountain flowers of all colors charm the eye and the distant views of delight spirit. The photo subjects are the lush lateral moraine with clear view of the Matterhorn with small mountain streams. On sunny days, the beautiful sun shines against the stream making it glisten like a gem and the beautiful pastures adds a magnificent color to the scenery allowing photographers to enjoy the scenery not only through the lens but with their eyes.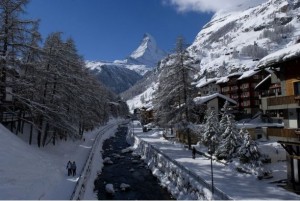 Kirchbrucke bridge offers the perfect location for photographing the Matterhorn at any time of day or night. In summer, the whispering begins around dawn and groups of visitors who have gathered before sunrise with cameras and videos are choosing the perfect viewing position. They all wait for the spectacular sun's first rays lighting up the pinnacle of the Matterhorn. The ideal time to take the best photograph is before sunrise with bellyful sun rays lighting the Matterhorn with play of light and color. Since the chance to take this magnificent photograph is short, photographers do not have to camp and wait for the best chance.