Schwarzsee is an amazing mountain hut with the magnificent view of the Matterhorn. You can enjoy their delicious homemade food while listening to the live music of Dave and the Murphy brothers. This is a wonderful mountain restaurant that has a vegetarian menu and has delicious fish specialties, fondu, raclette, cheese and Swiss specialties. It is also handicapped accessible so both the restaurant and toilets are accessible by wheelchair.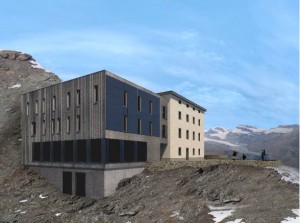 Hornli hut is one of the famous mountain huts in Zermatt. It is currently closed due to construction work but alpinists and hikers can sleep or eat in the Matterhorn Base Camp on the Hirli between Schwarzsee and the Hornli hut. For the 150th year jubilee of the first ascent on the Matterhorn, the Hornli hut will reopen on July 14th 2015. If you are a mountaineer and planning to go up the route up to Hornli hut, don't worry, it may be closed but  Zermatt has made a special place for mountaineers to stay. Hikers can go up close to Hornli hut to experience the magnificent views and grab a lunch at the Base Camp.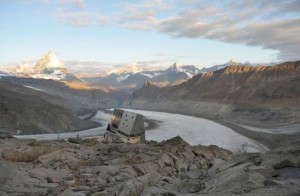 Monte Rosa hut at the foot of the Monte Rosa massif has been a popular destination for hikers and mountaineers since 2009. The striking ultra-modern building is virtually self sufficient in energy. The mountain refuge, run by the Monte Rosa section of the SAC or Swiss Alpine Club, reflects the light and landscape of its high altitude environment literally thanks to its dazzling aluminum facade. The building supplies its own energy needed to a great extent up to recycling the waste water. After its opening in 2009, it has been attracting large number of visitors because of its innovative architecture and design. This hut can be reached by going through the Gorner Glacier and into a high mountain environment. This hut is basically for mountaineers who wants to climb the high mountains. The hut is popular with mountaineers in summer and with ski touring enthusiasts in spring.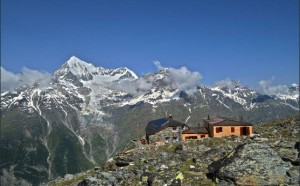 Domhutte SAC is located at an altitude of 2940 meters and the cabin is the main starting point for climbs up the 7 surrounding 4000 meter peaks such as Dom, Taschhorn, Lenzspitze, Durrenhorn, Hohberghorn, Nadelhorn and Stecknadelhorn. By going to Dom Hut, you can get a whiff of that special mountaineering experience. The hut offers a breath taking mountain panorama and you can relax on their beautiful terrace with their home made Rosti and a nice glass of wine. They offer both Valais and Swiss specialties and there are 40 seats outside for visitors to enjoy their delicious home made specialties with the views of amazing 4000 meter peaks surrounding the hut.