The Julen family owns 300 black-nosed sheep which is the largest heard in the area. Throughout the summer of 2014, visitors can go on a guided tour of the sheep-run where they can experience and walk with these absolutely cute and fluffy animals.
The cuddly sheep sport fluffy white wool and black heads as well as black spots on their knees and on the tips of their tails. Even the female sheep carry the characteristic spiral horns. These black-nosed sheeps, originally at home in Valais, are very important part of Zermatt's summer scenery. The rolling green summer hills would look bare without these crimped haired, white fluffy, black faced ones and local farmers would have no meaning to their lives. There are many events surrounding these cute fluffy animals such as sheep beauty contests and Shepherd's festival. On these events, the black nosed sheeps are judged through the criteria which is very strict. The boots blackened knees are one of the criteria and the grace of movement is also important as well as the quality of the wool. The competition between the 120 sheep is huge, with their owners preparing them, washing them, blow drying them, primping and combing them for days before the event.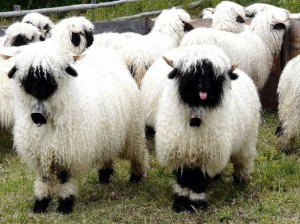 These blacknosed sheeps are also Zermatt's mascot, Wolli. These cute animals are absolutely popular and famous at Zermatt. These animals are strong and tough in winter and agile in the mountains just like Wolli. They provide the people of Zermatt with wonderful wool and meat. Visitors may see Wolli once they get off the train and enter Zermatt. Wolli loves children and has many activity areas where families with children can enjoy their stay at Zermatt. By creating this mascot, Zermatt is now very famous for these blacknosed sheeps.
The sheep herd owned by the Julen family grazes on idyllic pastures near the Schwarzsee mountain railway station at the foot of the Matterhorn. Sheep breeders Paul and Paul-Marc Julen acquaint their visitors with the special characteristics of these robust but gentle animals. This wonderful tour is followed by a glass of wine, some cheese and some meat from the Julen stock at the Stefelalp restaurant. People with families will have an amazing time, learning something about these cute fluffy animals while enjoying the company of these animals. While walking around the village of Zermatt, visitors may be able to view these cute animals. They are very friendly and very fluffy. Everyone loves these animals that many visitors pull out their camera to take a picture of these creatures.