Zermatt is family friendly. Zermatt-Matterhorn has been awarded the Family Destination or Familien willkommen quality label by the Swiss Tour Federation. Proof, if any were needed, that Zermatt's hotels, holiday apartments, mountain railways and cableways, ski schools and restaurants offer children and their families unforgettable experiences.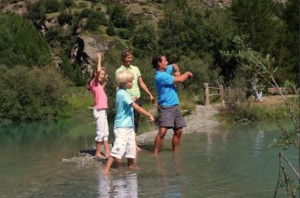 In Zermatt, children under the age of 9 travel free of charge on mountain railways and cableways as they head off on their skiing experiences, with special discounts available also for their older siblings. The menus on offer in restaurants are tailored specially for children, hotel staff enjoy having children in the house, and skiing g instructors are on hand to show the little ones just how much fun skiing down the slopes can be. Wolli, Zermatt's very own children's mascot, also straps on his skis now and again and drops by to say hello to his little friends at the Wolli's park for beginners at Sunnegga.
There are absolutely many things that family with children can enjoy at Zermatt. There are activities such as hiking, skiing, swimming and ziplines where families with children can enjoy. There are many playgrounds where children can enjoy at Zermatt and there are also Wolli's park where children absolutely love. If parents wants to enjoy a romantic dinner alone or wants to go shopping but their children wants to play, Zermatt offers wonderful daycare services where children can have a great time. Some hotels also offer child care service where parents can safely leave their children while they go shopping or have a relaxing time at the spa.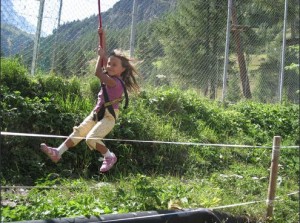 The Swiss Tour Federation awarded the "Family Destination" or Familien Willkommen quality label to the Zermatt-Matterhorn resort for the first time. The award ceremony honoring 24 Swiss holiday destination was held in Lucerne. The quality label confirms that Zermatt's offer is on track and families are one of Zermatt's most important guest segments in Zermatt. Together with service providers Zermatt Tourism will continue to develop and expand its family offer in the future. So families with children, come to Zermatt where it is absolutely family friendly. During summer, families can swim at the amazing mountain lakes around the village while enjoying the amazing view of the Matterhorn and children can play in the crystal clear lake or play at the playground while parents can enjoy and relax by the lake or have a wonderful picnic or barbecue. Zermatt also offers Wolli summer fun where the cute mascot, Wolli offers a lifetime for children. There are so many activities that family can enjoy.