The ancestors of the people of Zermatt, the Walsers, who settled were skilled builders. They appreciated the advantage of using larch wood. The larch is a kind of symbol of Valais as some 29 percent of its trees are larches. The larch is the heaviest and the hardest of the indigenous conifers. The wood is highly resinous, which repels vermin, and its core substances make it extremely durable. It has good strength and elasticity properties and is weather resistant. It atrophies at only a moderate pace and is noted for its excellent stability. Larch wood becomes dark brown or black when exposed to the sun. The wood heats when exposed to the sun and this produces energy. Therefore the people of Zermatt who live in black Walswer houses can turn off the heating in the daytime in winter, at least in the rooms that face the south side.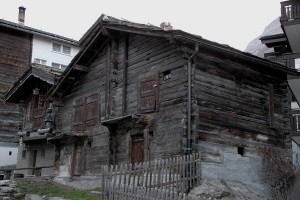 Egon Gruber's "Schatzchischta" (treasure chest) is located at the end of the Hinter Dorf, near the "Zum Steg" bridge. This unique barn with storehouse has been extended to four floors. Here Egon Gruber has assembled a variety of gems in the form of beautiful objects from bygone days stored in chests and in so doing has retained the essential purpose of these storehouses as places for the farmers to keep their treasures such as dried meat, grain and tools.
As in former times, the current owner has either recycled materials or converted them to a different use: a wooden beam from the roof has been used to make a stair railing. Handles have been made of vine wood. Local items have been left or added: a table of stone slabs from St. Niklaus or a Valaisan soapstone oven. The floor of the first floor comes from the Schweizerhof and is over 100 years old. The window by the entrance comes from an old house in Zermatt and dates back to 1780. There is even place for romance and luxury here – you can gaze at the stars through the window as you sit in the bath on the top floor.
When you go to Zermatt and if you're walking around the main street, you might want to go check these beautiful and historical buildings. They give beautiful antique taste to the village of Zermatt allowing visitors to enjoy and appreciate the buildings. And if you look carefully, you will notice that some of these historical buildings are used as a restaurant or shops. The inside is not the same but the outside is beautifully maintained. With the view of the Matterhorn, these Gadinis are absolutely beautiful and makes Zermatt very unique.