In the former pre-Alps, in the village of Zermatt and especially in the Hinter Dorf area, there are old farm buildings built of logs that visitors can't help but notice. Having largely been forgotten since 1960s and only rarely used, their cultural value has now been recognized and some of these barns, storehouses and Gadini or stalls for small livestocks such as sheep, goats and pigs, are being put to tourist related use.
As you stroll through the Hinter Dorf area, you may wonder whether the old village of Zermatt might once looked like this. This is actually the oldest surviving village center and some of the buildings are over 300 years old. These fascinating Valais log buildings with their sun-beaten wooden walls made of larch wood were mainly put to agricultural use. There were barns where people would thresh the grain, and storehouses where they would dry their meat, slaughter their animals, and store their treasures from the land away in chests. And there were buildings, known as Gadi, where the cattle were housed on the bottom floor and the hay stored on the top. These barns and storehouses mainly stood on stilts with round stone slabs on top to prevent rodents and insects from coming in. The roofs on these buildings were covered with shingles and flat stone slabs. There are around 50,000 of these agricultural buildings still in existence. The preservation of these buildings is of growing importance to the local communities, the Swiss Heritage Society and the owner themselves. The buildings symbolizes the customs, traditions and farming culture at the highest altitudes in this Alpine region.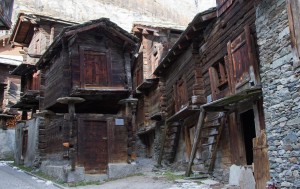 Outside the village, the municipality of Zermatt has recorded the existence of over 720 of these so called Hofstetten. An inventory of these buildings for the urban area has not yet been finalized. They also include ruins, some of which still house black-faced sheep and black-necked goats and are just as deserving of attention as are the more striking storehouses and barns. With the decline of agriculture during the past century, and particularly since the 1960s, these wooden witnesses to Alpine agriculture have increasingly lost their function. It was only in the 1970s and 80s that people started to realize that this cultural heritage was under threat. Maintenance of these buildings has been hindered by the inheritance laws in the Valais, which many generations have now passed and as each building was used by several farmers there are, in some cases, hundreds of heirs involved. Preservation requires some considerable expense and family unity. Investment, cost effectiveness, aesthetics and meaningful use have to go hand in hand. It is gratifying that increasing numbers of owners are recognizing just how much visitors to the area appreciate these barns and storehouses, either as accommodation or as a symbol of a mountain region that they perceive as being intact.