The Zmuttgrat on the Matterhorn is an alpinist's route. It is a very difficult climb on a famous peak. Though not as famous as Whymper's on the Hornli, it's first ascent was in 1879. It was climbed by Alfred Mummery, and his guides, Alexander Burgener, Augustin Gentinetta and Johann Petrus, 14 years after the peak's first ascent.
It still remains a challenging climb today and because of it's difficulty it is only climbed few times each year. It is one of the great ridge climbs of the Alps. To ascent successfully, the condition of the weather is very important. The ridge faces northwest therefor recieves little sunlight. As a result, new snow melts very slowly and the snow covered rock makes the ascent very challenging.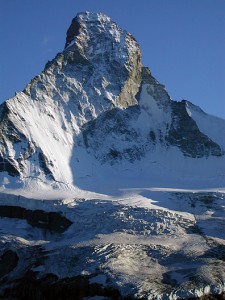 In 1997, a bivouac hut was built near the foot of the ridge to make an effort in to making the climb a bit more user-friendly. The hut was named Lonza hut in the honor of the Swiss pharmaceutical company that funded the venture and it promised to make the ascent a bit more popular. Unfortunately couple years after it was built, the avalanche swept the hut away. So for the time being, climbers still have a considerable apporach to the summit either from the Hornli hut or from across the valley in the Schonbiel hut. So reaching the ridge is a huge challenge.
The beginning of ascent is a bit reasonable but soon the small towers of the mid-section called Zmutt Teeth faces the climbers. From there the climbers have to turn on one side or the other, sometimes on poor rock, to reach the ridge beyond them. After clearing the Zmutt Teeth, somewhat difficult but better climbing follows towards the Zmutt Nose. There the route traverses right onto the West Face and has a large sloping terrace known as Carrel's Gallery. From there the climbers will climb up again to the top.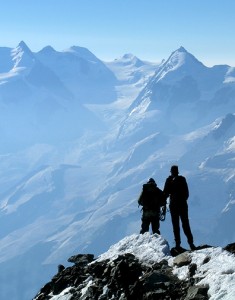 This route is one of the most difficult routes to climb the Matterhorn. Technically it's not too extreme if the rocks are clear of snow. But the climb is very long taking as much as 10 hours for the ascent alone. There are some poor rock around the Zmutt Teeth and the entire climb is very difficult to descend. In order to ascent this route you should be very skilled and experienced with rock climbing and crampons. But if you are an alpinist, this is a challenging climb that you would want to take.