If you're a vegetarian and planning to visit Zermatt, you might have trouble finding a nice restaurant. Most restaurants serve meat but don't worry, here are some restaurants that have wonderful vegetarian menus.
The Pipe is a deli and a cafe by day. They offer great coffee, brunch, lunch, snacks and homemade cakes. By night they become a fusion bistro where they offer a modern Afro-Indian fusion menu and wonderful wine list with an award winning South African wines. Their fusion foods are wonderful with vegetarian curry, Falafel Wrap, Thai vegetarian soup and many more. They offer menus with combination that fuses ancient African and Indian spices into modern healthy cuisine. They prepare food in an open show kitchen style will curries and fresh dishes. Staffs are multi-lingual so if you have certain allergies, you can ask them and they are open to both vegetarian and vegan. They also offer take out so if you want, you can just buy their food to go and eat it in your hotel room! They are located at Brantschenhaus, Zermatt.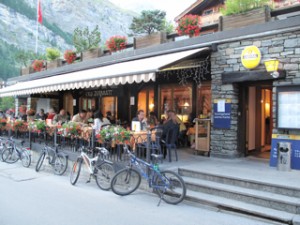 Old Zermatt is another place where you can enjoy a delicious vegetarian menu. They have wonderful classic cuisine with a modern touch. With newly renovated dining room, large tables for big groups, the restaurant has a splendid cozy atmosphere. They have exquisite vegetarian menu and also gluten free dishes are available. You can try their delicious Zucchini cake with herb rice, yellow Thai curry and many more superb vegetarian dishes. They also have great selections of desserts for you to enjoy! Old Zermatt is located at Wallis, Zermatt.
Restaurant Fluhalp is also another option. At 2606 meters, the restaurant lies in the middle of the skiing and hiking area of Sunnegga-Blauherd-Rothorn. They have a large terrace where you can enjoy the view of Matterhorn and during winter, you can enjoy a live band playing. They offer Valaisian and Swiss specialties with delicious vegetable stew, salads, Testa Rossa and many more.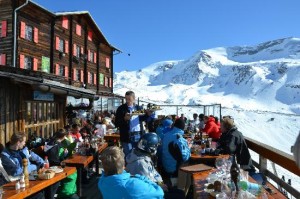 If you want other cuisines, many hotels in Zermatt offer vegetarian menus. So if you already have a hotel in mind, it may be wise to call before hand to check if they have a vegetarian menu. Also if you're planning the ride on Glacier Express, you can have vegetarian menu too but it may be wise to check before hand for what kind of menu they offer. Or, you can try cooking yourself which helps you with budget! They have grocery stores in town where you can buy fresh vegetables.