Zermatt is absolutely one of the beautiful resorts in Switzerland. That is because substitutability is very important here at Zermatt. This place takes care of nature and uses its resources judiciously. The beauty in Zermatt is properly sustained by people of Zermatt for visitors to enjoy their wonderful vacation.
Once you have reached Zermatt you notice that the area is car-free zone. But without normal cars, Zermatt made sure that visitors can get around without them. They offer horse-drawn carriage rides where visitors can enjoy a classic ride around village. For people who want to get around different ways, they also offer electric buses and electric taxis. Electric bus has a characteristic shape and is powered without a combustion engine there for does not produce any emissions. Pedestrians rule in the narrow streets of Zermatt under Section 3 of local traffic regulations but electric buses and electric taxis can take you to the wide streets. They also have trains and mountain lifts to allow visitors to get far to Gornergrat or Tasch and up the high alpine mountains where they have beautiful hiking areas with wonderful views of the alpine mountains.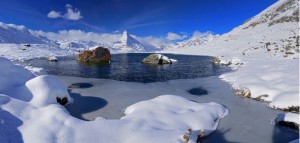 The water at Zermatt is also sustained beautifully. Zermatt has over 50 lakes and almost 100 springs allowing the water in village to be top quality. With wealth of water, Zermatt has 100 percent self sufficient supply of pure spring water. Zermatt Municipality has drinking water of excellent quality due to substitutability of the laboratory result. The water is pure with excellent quality. The water flows from the taps at only 4 degrees Celsius and the water supply pipes are short. The water is very soft because it primarily flows through crystalline rocks which picks up minerals such as calcium and sulfate. Also the water in Zermatt contains virtually no nitrate as the mountain slopes are rarely used for agriculture. Microbe values also lie far below the Swiss average and also far below the legal tolerance value. With all these sustainability, Zermatt's drinking water is better than most of the mineral water that is on sale with fresh and bracing taste. So while in Zermatt, go to some of the fountains and taste the excellent quality water.
With excellent sustainability towards nature, Zermatt has won many awards such as Solar prize, environmental scheme and sustainability award. The New Monte Rosa Hut and Zermatt Bergbahnen has won solar prize. The New Monte Rosa hut's energy self sufficiency level has achieved up to 64 percent with an unprecedented level of comfort. Despite the difficult environmental conditions, this building has toilets and even showers. Zermatt Bergbahnen located at 3883 meters above sea level is a solar restaurant that also won the solar prize. The Zermatt Bergbahnen focuses on three pillars. First, the energy used should achieve the maximum possible effect. Second, renewable energies and third is the use of CO2 free electricity in buildings and to operate the facilities. This is self sufficient restaurant and is the first solar restaurant.
Zermatt really is well sustained area with waste water disposal and hydro powers, all to sustain the absolutely beautiful nature around Zermatt.