Hiking with children can be a challenge for adults. It has to be interesting, otherwise they will go on a strike. In Zermatt, there are many hikes where both children and adults can have fun. Observing marmots and discovering which one warms the entire family with its whistle. Or swimming in a mountain lake and floating around on a raft, well that's what the young ones want. The more they like it, the more it is easy for the adults. When hiking involves some detective work and mystery is needed for children to be completely happy. Zermatt, Tasch and Randa has mountain world full of adventure and fun for everyone!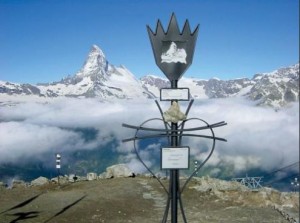 Peak Collection Rothorn is a permanent art exhibition at the summit of the Rothorn. It shows the creative response of the Zermatt mountain guides to their iconic peak. The open air exhibition of the Peak Collection offers mountain enthusiasts a new view of the alpine world. Mountain guides carried stones from the summits of the mountains portrayed and articulated their own experiences of each peak in individual texts that carry their signatures. Stones, words and images come together through the work of the mountain guide Willy Taugwalder. The sculptures are arranged in a 100 meter circle around the Restaurant Rothorn and evoke the character of the different mountains. This easy artistic walk starts at Rothorn and ends at Rothorn with total distance of 0.53 kilometers taking approximately 30 minutes. The highest point on this walk is at 3091 meters with an ascent of 28 meters and descent of 28 meters. There are 18 metal sculptures each dedicated to one or two mountains with texts by the mountain guides and information on the height of each mountain, date of first ascent with names of climbers in German, French, English and Japanese. Children who love looking at interesting exhibition will sure to have an excellent time on this trail.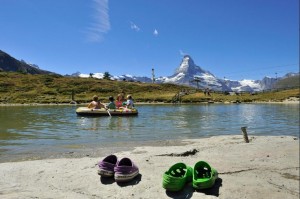 5-Seenweg or Five Lake Walk is definitely the walk your children will have fun and something you don't want to miss. You can enjoy the superb views of the mountain lakes with the Matterhorn reflected on two of the lakes. The path leads past the lakes of the Stellisee, Grindjisee, Grunsee, Moosjisee and Leisee. Each of the mountain lakes is very different in terms of shape, color, character and size, and has its own special attraction. The Leisee is and excellent spot for swimming, Grunsee looks out over a rather more rugged landscape, were Swiss stone pines nevertheless manage to grow among the scree and sand. The shores of the Grindjisee are home to rare flowers and so on with each one promising a unique experience. This medium walk starts at Blauherd ending at Sunnegga with total distance of 9.26 kilometers taking approximately 2 hours and 30 minutes. The highest point on this walk is at 2578 meters with an ascent of 310 meters and descent of 599 meters. Children will definitely have fun walking along the beautiful mountain lakes with gorgeous rare alpine flowers. They can swim in two of the lakes and at Leisee, not only can children swim but there is also a playground for them to enjoy. Also there are places to have a wonderful picnic or barbecue for both adults and children to have fun.