Planning to go to Zermatt but not really sure what to pack? Well here are some tips on what need to pack, where you should go and other tips that may help you when visiting Zermatt.
Zermatt is a wonderful Swiss Alpine village with the beautiful view of Matterhorn. Even if you're not planning to climb the Matterhorn, you should definitely bring a good footwear. Since Zermatt is car-free area there aren't many cars other than electric taxis therefore you will be on foot most of the time. During winter the streets will be covered in snow so be sure to take a shoes where you won't slip. Most of the best places such as the village, wooden barns, and old churches are wonderful places to explore on foot. You can pause at a lively apres-ski music bars for a drink or two. Even if you're a non-skier, you have to take one of the cable cars up the slope to see the splendid glaciers of Alps.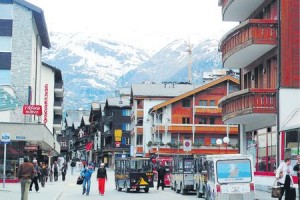 One of the important thing you should know before going to Zermatt is that all hotels and chalets require minimum of 7 night stay in season so just one night is not possible. So if you're planning to go to Zermatt, you should take at least 8 days of vaccation. Also if you want to enjoy fullness of Zermatt it might be wise to avoid around February to May when all the trouists deplete and clear out of Zermatt. During this season most hotels closes and some lifts close too until summer. There are some places that are open so everything isn't closed so if you perfer the quietness and low crowd then it might be perfect.
For food, most of the hotels and chalets serve food so you don't really have to worry about it. But if you're a bit low on budget then try going to one of Zermatt's many gourmet mountain huts like Vrony's, Findlerhof, Blatten, Zum See and Fluhalp. They are all set in a wonderful location with charming old wooden hamlets and serve haute cuisine with fine wines!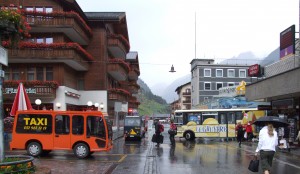 If you're planning to ski in Zermatt you should avoid skiing off-piste without a guide. It can be very dangerous so always go with a guide. What you can't miss is helicopter ski drop! It is one of the most thrilling ways you can ski! You can drop either at the top of the long glacier run if you're experienced or you can drop off at 3500 meters where the Italian cable cars from Cervinia is connected. You can ski all day and have lunch on the Italian side and shop or enjoy the beautiful scenery which is totally different from Swizerland side.
Even though April is the low season in Zermatt it is also the best time to enjoy the coming of summer. The days are longer so you can hike in the nice spring weather or play tennis on the tennis court which is replaced from ice skating rinks during this season. If you want to enjoy your holidays in Zermatt, then November to January is the best! Even though the temperature goes below zero, the accomodation at the hotels are premium and during Christmas it is absolutely breath taking!