There is a unique event in Zermatt where the black nosed sheep is involved. It is a beauty contest for sheep that happen in September. This Shepherd Festival has become very popular among the families of Zermatt. For locals as well as guests, it is a great opportunity to experience the village and its long standing traditions up close.
Black-nosed sheep are an important part of Zermatt's summer scenery and Zermatt winter's tables if you are lucky enough to be served the delicious local lamb. The rolling green summer hills would look bare without the crimped haired, white fluffy, black faced four legged ones, and local farmers would have no meaning to their lives. This is why every year at the beginning of September, a hotly contested, deadly serious competition is fought amongst the Zermatt farmers to win the honor of being the owner of the finest sheep.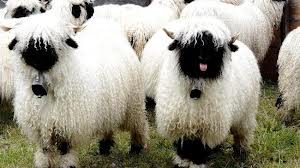 With their black faces, black hooves, black knees and Auber fluffy white wool, these female sheep are just crying out for a cuddle but it is not only appearance that is judged, through the criteria is very strict. Some farmers was actually caught using boot polish to blacken the knees of his favorite mother sheep. Grace of movement is also important as well as the quality of the wool. Though you won't see any of them in a dress, the competition between the 120 sheep is huge. With their owners preparing them, washing them, blow drying them, primping and combing them for days before the event.
The proud shepherd of the winner is presented with a newly cast sheep bell to hand around Miss Zermatt's neck and has the year engraved on it.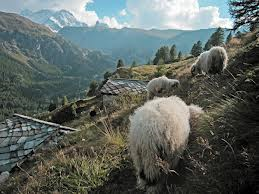 And Wolli the kid's mascot will, of course, attend the festivities personally, as he will also be celebrating his birthday on this day. The event is held in Furi above Zermatt and you can get there by following the sign posted hiking trail from Winkelmatten up to Schweigmatten by foot (which will take approximately 45 minutes) or by train. You can take the Matterhorn Express gondola from Zermatt to Furi. From Furi, there is a paved road leading down to Schweigmatten which will take approximately 10 minutes by foot.
This unique festival isn't all about the cute and fluffy sheeps. They also have music from local musicians and yodellers. They also serve raclette and lamb specialties! Whether you want to see those cute sheeps, or want to see Wolli or even enjoy the festive air, it will be a memorable time in Zermatt!