Zermatt is famous for many things and one of them, (as you may already know) is Matterhorn. As I said in my previous article, Matterhorn is not for everyone and it isn't an easy climb. If you want to climb the Matterhorn, you need to be well prepared with gears and most importantly must be experienced. Even an experienced climber needs to be tested if they are fit enough to climb the Matterhorn. Through these walks you will get warmed up for the Matterhorn while enjoying the fabulous view of the mountains and wildlife. So here are some places where you can prepare for the magnificent climb of Matterhorn.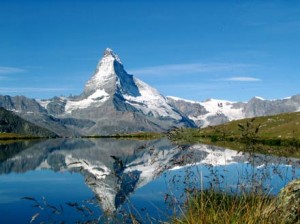 Many guides in Zermatt uses the fitness trail from Zermatt to Sunnegga to assess whether threir clients are fit enough to climb the Matterhorn. The track can be easily found since there is a large white sign. It takes you through a beautiful forest famous for its black squirrels, thrushes and deers. Just follow the track uphill and if you are Matterhorn material, you will emerge at Sunnegga, which is 2288 meters, in about 60 minutes or less. The another route the path from Sunnegga to Tufteren, which is 2215 meters.This is equally difficutl to walk but covers greater distance. If you get too tired to go any further, you can take a break at the picturesque Leisee Lake where there are children's playground and campfire area, before making your way down to Zermatt.
If you still have energy in you and want to climb more, you can take the direct path from Sunnega to Blauherd and then go through the path from Blauherd to Rothorn. While you're in Rothorn you could to go Restaurant Rothorn where they offer excellent food and a unique "Peak Collection" exhibit with information about the surrounding mountains in a number of languages. If you still want more walk, you can go from Rothorn to the Oberrothhorn. You can start by descending about 100 meters from the Rothorn before following a steep path around to the summit.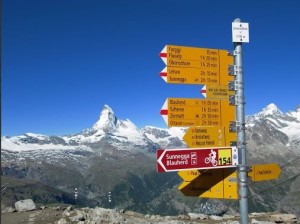 The views from Obberothorn are stunning and there are few people so you can really enjoy the view. You can see the Matterhorn, Obergablehorn, Zinalrothhorn, Weisshorn, Rimpfischhorn, Strahlhorn, Monte Rosa Massif, Liskamm, Castor, Pollox and the Breithorn. If you are too tired to descent, you can take the cablecar to Sunnegga and the underground funicluar railway to Zermatt.
These walks would be best during the summer walking season since during winter, faces of mountain may change and it may be too dangerous. Once you have conquered these hikes, save up your energy by resting and eating delicious food for the great hike up the majestic Matterhorn.